EcoLine of Tube Bending Machines Just What You Need -- No More, No Less
Different industries have completely different production requirements -- sometimes precision is the main priority, and other times its turnover times that matter most. That's why no two tube bending tasks are the same, with bending machine manufacturers therefore focusing on highly specialized and customized machines.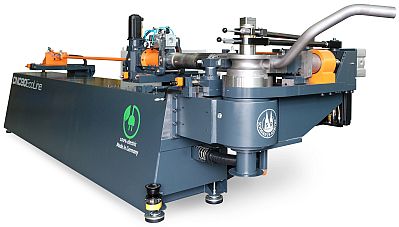 Schwarze-Robitec is no exception. But the Cologne-based specialist has been listening very closely to what the users of its machines have been saying over the past few decades -- and is now presenting an entirely new concept with the launch of its new EcoLine series.
Tried-and-Tested Functions for Fundamental Bending Processes
The EcoLine series excels when it comes to fundamental bending processes.
Various models are available, ranging from the CNC 40 EcoLine, CNC 60 and CNC 90 variants for tube lengths of 3 or 6 meters, respectively, to the CNC 140 EcoLine model for tubes measuring 6 meters in length. The smallest machine can process tube diameters of up to 42.2 millimeters, and the largest model can handle tubes with a diameter of up to 141.3 millimeters. All of the models are right-hand, single-stack electric machines.
Clever and Cost-Effective Standard
Apart from a few optional extras, the EcoLine series' feature set focuses on the most important, tried-and-tested functions. That makes the series a particularly appealing proposition in terms of price. And on top of that, it ensures simple operation and easy tool changing.
The EcoLine series features the new CNC eco control system, CE safety equipment, a controlled pressure die boost and a wiper die holder as standard. "Our experience over the years has led to us developing a focused, entry-level series. The EcoLine series provides customers with a clever, highly functional standard that offers maximum cost-effectiveness," explains Bert Zorn, Managing Director of Schwarze-Robitec.
Want more information? Click below.