HP's Metal Jet S100 Debuts at IMTS; Enables End-to-End Mass Production of High-Quality 3D Printed Parts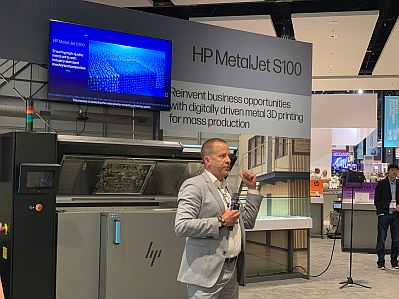 Tim Weber, Global Head of 3D Materials for HP introduces the MetalJet S100 at IMTS 2022. The unit is designed for high-production volume parts with stainless steel 316L and 17-4PH compatibility.
At IMTS, HP Inc. announced the commercial availability of its Metal Jet S100 Solution.
HP's new 3D printing solution is opening the doors for a digital reinvention of the global metals manufacturing sector, with a strong focus on end-to-end supply chain solutions in both software and hardware that are customer-centric and design led.
The Metal Jet S100 Solution provides industrial production capabilities, integrated workflow, subscription and service offerings -- an unprecedented level of technical and business advantages for customers, helping them achieve their goals for business transformation. The modular solution enables build units to travel between four different stations, meaning users can continually run production at scale for mass metals production.
"Since announcing the breakthrough Metal Jet technology in 2018, we have been working to develop the industry's most advanced commercial solution for 3D metals mass production," said Ramon Pastor, Global Head and General Manager of 3D Metals, HP Inc. "3D printed metal parts are a key driving force behind digital transformation and the new Metal Jet S100 Solution provides a world class metals offering for our customers, from the first designs right through to production, but more importantly helps them to realize the unlimited potential for digital manufacturing."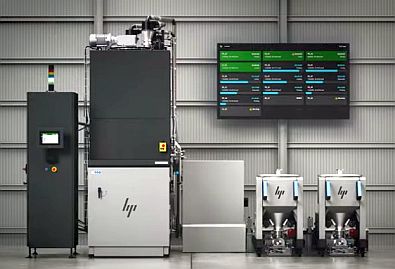 HP officials believe the MetalJet S100 System will revolutionize the metal 3D printing industry.
HP's Thermal Inkjet printhead dramatically improves the printing speed, part quality, and repeatability. The advanced latex chemistries developed by HP lend significant benefits to the binder itself, enabling stronger green parts, eliminating the need for de-binding, and yielding industrial production-grade quality.
Key advantages of HP Metal Jet technology include:
Want more information? Click below.