NASA's Lead Engineer for Webb Telescope Wows IMTS Crowd with Fascinating Look Inside the Program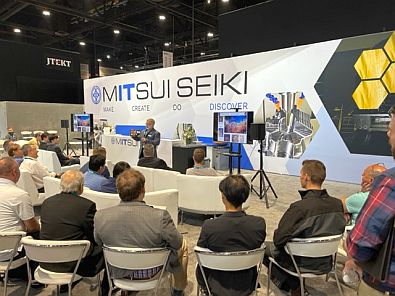 Mike Menzel, Lead Engineer for the James Webb Space Telescope, delivered a presentation to an enthusiastic group at IMTS.
Mike Menzel, the NASA Mission Systems Engineer for the James Webb Space Telescope, spoke to an extremely interested audience in the Mitsui Seiki booth at IMTS.
Menzel provided a lot of insight into the program and shared images about the challenges he and his team of engineers experienced building the largest and most complex space science observatory ever built.
In his role on James Webb, Menzel oversees all system engineering efforts which include requirements formulation and management, systems design and integration, and systems validation and verification. Prior to his involvement with James Webb, Menzel was the Deputy Program Manager for the Hubble Space Telescope (HST) Servicing Missions Group for Lockheed Martin.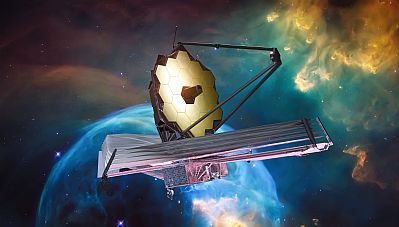 The James Webb Space Telescope is a large, infrared-optimized space telescope. The observatory launched into space on an Ariane 5 rocket on December 25, 2021.
The James Webb Space Telescope has a colossal mission -- to find the first galaxies that formed in the early universe, peer through dusty clouds to see stars forming planetary systems, and more. It is certain to transform our view of the universe and deliver world-class science.
Like most engineering marvels, this accomplishment didn't happen overnight. It all started in 1998. The JWST successfully launched earlier this spring of 2022, and awe-inspiring images are being transmitted to us almost daily.

VIDEO: New Images from James Webb Telescope -- Streamed live on Aug 31, 2022
Mr. Menzel shared what NASA has learned so far from the JWST and described just how relieved he was when the telescope deployed successfully.
The NASA engineer was speaking in the Mitsui Seiki booth because that company's specially made horizontal machining centers were used to machine the JWST mirrors.
Want more information? Click below.