New 5-Axis Machining Center Perfect for Producing Medical Parts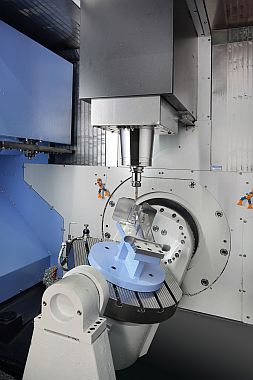 DN Solutions (formerly Doosan Machine Tools) will introduce the DVF 4000, the latest member of its DVF family of vertical 5-axis machining centers, at IMTS 2022. The DVF Series is made up of compact 5-axis CNC machines that are fully packaged to handle diverse 5-sided or simultaneous 5-axis applications.
The DVF 4000 is the smallest offering in the DVF line. It is the perfect choice for manufacturers who produce parts for the medical industry and want to move up to the next level of productivity and quality without spending half a million dollars on a CNC machine tool.
The DVF 4000 comes standard with a 15,000 r/min direct coupled spindle powered by a 25 hp (18.5 kW) motor which generates 86.98 ft-lbs (117.8 Nm) of torque.
A FANUC 31i-B5 Plus control makes full 5-axis simultaneous control possible, giving complete contouring capabilities. It features a 400mm diameter built-in rotary table which minimizes any table deflection. The rotary table is designed for ease of use and consummate work efficiency, minimizing interference as the part is machined.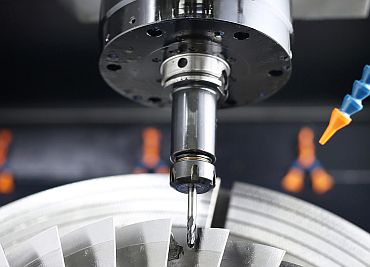 An AWC (Auto Work Changer) coupled with a six-port hydraulic fixture preparation feature provides additional productivity by offering up pallets to feed the machine for unattended machining.
Each DVF Series machine comes with a 40-tool automatic tool changer that can be expanded up to 120 tools, giving the customer more tooling to tackle complex parts that have varying profiles. The oil cooled spindle controls heat to minimize thermal issues, and the DVF Series also incorporates roller LM guideways for speed and added rigidity.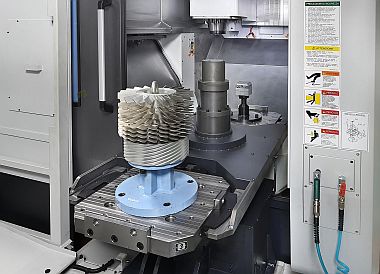 The machines are equipped with linear scales on the X, Y, and Z axes and rotary scales on the B and C axes for the most accurate positioning and repeatability. Their compact footprint enables installation where floor space is limited or comes at a premium.
DN Solutions will be demonstrating this machine at IMTS.
Want more information? Click below.