Siemens New Generation Control Allows Machine Builders to Shorten Development and Commissioning Times by 50%
Siemens new generation of machine tool control, SINUMERIK ONE, is at the heart of the digital transformation of CNC machines. As a digital native control, SINUMERIK ONE features not only a new hardware platform, but also versatile software for the creation of a digital twin. It closes the gap between the virtual and the real world while helping to reduce development and commissioning times considerably.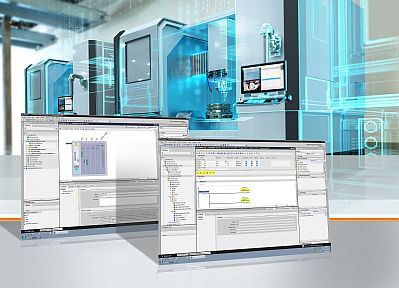 The central element for engineering the SINUMERIK ONE is the Totally Integrated Automation (TIA) Portal. Both PLC (Programmable Logic Controller) and Safety are engineered in this framework with modern programming languages and a seamless data flow. The integration of SINUMERIK ONE into the TIA Portal enables a consistent digital development process for CNC machines, which makes all engineering tasks easier.
With its integrated Simatic S7-1500F failsafe PLC, machine tool builders can take full advantage of the benefits the TIA Portal brings.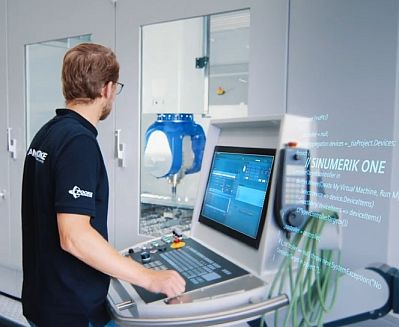 Uniform, centralized data handling enables efficient engineering and considerably reduces the potential for errors caused by inconsistent data. Drag-and-drop is used to network peripherals easily and to establish communication links with other machine components.
In addition, machine builders can create software libraries with ready-made hardware configurations and numerous function and software modules in TIA Portal, thus standardizing the development of the CNC machine.
SINUMERIK ONE is based upon Safety Integrated as the Siemens industry standard. The controller also supports safety functions integrated in the drive. In addition, thanks to the integration of the Simatic S7-1500F PLC for implementation of the safety logic, only one failsafe program is required. This simplifies safety engineering and reduces safety commissioning time.
With Create MyVirtual Machine software, machine tool builders can use a digital twin of the CNC and utilize it as a virtual test rack. In this way, engineering and software modules can be tested comprehensively without the need to use hardware.

VIDEO: Siemens SINUMERIK ONE | TRAK Machine Tools
Programming tasks, which previously had to be performed successively, can now be completed at the same time. This creates flexibility and reduces dependencies. Using the virtual image of the CNC, logic functions in the safety environment can be virtually tested and commissioned in advance. Virtual commissioning with the digital twin helps to minimize commissioning time in the real world.
Run MyVirtual Machine software allows the CNC user to create the machining environment that will happen before they get to the manufacturing floor. Users can quickly and easily validate the actual machining of the product, evaluate the process that will happen before the first cut, and optimize their CNC part programs to stay up-and-running. New machine tool operators can even be trained without tying up the actual CNC machine.
Want more information? Click below.