OnRobot Delivers Flexible Palletizing Automation to Any Size Company
OnRobot has launched OnRobot Palletizer, a complete collaborative palletizing solution designed to take the physical and financial pain out of palletizing processes.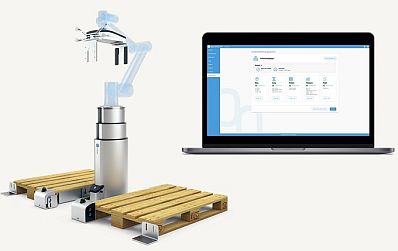 OnRobot Palletizer extends OnRobot's application-first approach to collaborative automation by letting users choose a palletizing system that works for their specific application needs thanks to its space saving footprint, and ability to handle many different types of boxes, packages, patterns, pallets and stacking heights.
Compatible with collaborative robot and light industrial robots from the Doosan, FANUC, OMRON, Techman and Universal Robots brands, the OnRobot Palletizer is available as a complete out-of-the-box system or as individual components to create a mix-and-match solution. The OnRobot Palletizer includes four new hardware and software products:
OnRobot Palletizing, intuitive palletizing software that guides users through the entire deployment from start to finish via a single intelligent interface for all components. It's also a true time-saver designed to slash overall project costs.
The OnRobot 2FGP20, a powerful, versatile, electric palletizing gripper with a 20 kg payload and customizable arms that can handle standard cardboard boxes as well as open boxes and shelf-ready products while also handling slip sheets without changing the gripper or requiring additional handling; no external air supply required.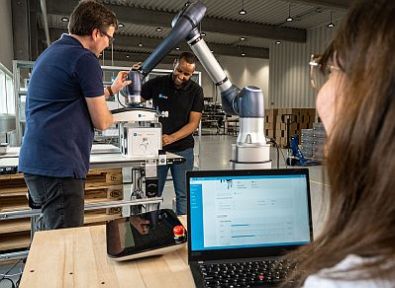 The OnRobot Lift100, a robust elevator with a total payload of 100 kg that provides a 7th axis for cobot and lightweight industrial robot brands; TÜV-certified stop-functionality facilitates safe and effective collaborative deployments; provides safe and precise positioning even at high speeds.
The OnRobot Pallet Station, durable floor mounted pallet fixtures designed to ensure consistent positioning; each comes with a built-in sensor for detecting pallet presence.
"OnRobot Palletizer can be deployed out-of-the-box and with minimal disruption to existing factory and warehouse layouts." says Enrico Krog Iversen, CEO of OnRobot.
Want more information? Click below.