Volvo Turns to Megacasting -- Can Now Replace 100 Parts with Single Die-Cast Part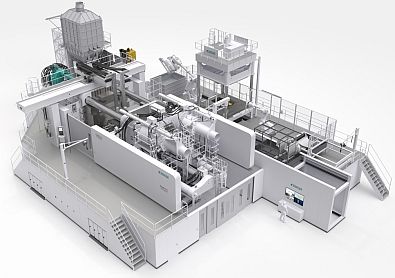 The Swedish premium car brand Volvo Cars has purchased two Carat 840 die-casting cells for its factory in Torslanda, Sweden. The Carat 840, along with Carat 920, Bühler's largest die-casting solutions, were launched in 2021. These solutions have become an attractive option for customers in the automotive industry.
In October 2021, Bühler launched the Carat 840 and the Carat 920 with locking forces of up to 92,000 kilonewtons (kN). With these solutions, Bühler's customers can produce structural castings for automotive body in white assemblies, known as megacastings. This expansion builds on the success of the Carat 560 and 610, which have up to 6,000 tons locking force and have been on the market since 2020.
Megacasting is a further development of the structural process (complex, thin-walled parts produced using die casting).

VIDEO: The Carat 920 Die Casting Cell for Megacasting Production
Cornel Mendler, Managing Director of Bühler Die Casting, says: "Megacasting is of utmost importance for the entire die-casting industry. Megacasting gives the trend towards structural casting another push by extending the range of applications to complete body sections with the use of the new large Carat solutions with up to 92,000 kN locking force."
With the introduction of the Carat 840 and 920 and its vast die-casting experience, Bühler has further developed its solutions to be able to provide complete cell solutions for ever larger projects. Two Carat 840 die-casting cells will be delivered to Volvo Cars for its factory in Torslanda.
"Volvo Cars is among the first carmakers to adopt the megacasting process. The fact that Volvo Cars has chosen Bühler for two complete Carat 840 cells shows that we have the right products and services for this intensively discussed innovation in the automotive industry," says Cornel Mendler.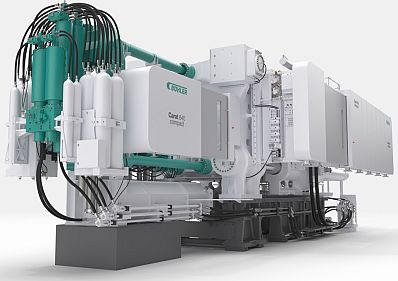 "Especially for such large projects, thinking about the entire die-casting cells from the melting furnace to the handling of the final part is essential. Bühler has the competence to deliver these complete die-casting solutions," Mendler adds.
Groundbreaking Megacasting
Megacasting is considered groundbreaking by many car manufacturers who are moving in this direction or thinking about adopting this trend. Megacastings reduce complexity in production by enabling between 70 to 100 parts to be replaced by a single die-cast part. These single-piece castings will generally be produced close to the automotive assembly line, which allows for better integration and reduced transport.
Aluminum castings have the potential to be almost CO2 neutral, when using low CO2 aluminum alloys and biogas for the melting furnaces. The aluminum that goes into overflows can be remelted directly and reused in the die-casting cell, thereby avoiding transport and recycling. Thinking a step further, the usage of lighter aluminum parts can reduce the energy consumption of the cars over their entire lifecycle.
Want more information? Click below.