Low-Maintenance, Ultra-Fine Compact Filtration System Ideal When Grinding Large Batches
Vomat's high-performance KFA-1500 machine is perfect when grinding high-speed steels (HSS) and carbide materials. The KFA 1500 promises optimum quality, and high purity (NAS 7/8 or 3 - 5µm), even for the largest batches.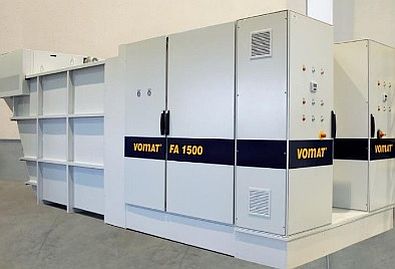 Demanding grinding applications require a high-performance filter system that positively supports and influences the process flow. Ultra-fine filtration allows grinding oils to remain in the system significantly longer. Cleanly filtered, those oils help to increase the dimensional accuracy, and surface quality of the products. Additionally, the right filter system will also reduce energy consumption and disposal cost.
The KFA 1500 (260" x 100" x 103" h) has a tank volume of 10,000 liters and a filter capacity of 1,500 liters/minute. The medium is filtered by high-efficiency precoat filters, in full flow at a filter fineness of 3- 5 µm. Filtration takes place on-demand and in an energy-efficient manner via a frequency-controlled system pump. The special drying unit is optimally designed for large batch sizes.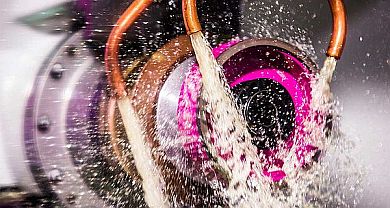 The KFA 1500's cold-water circuit's performance is 20kw in continuous operation. The temperature accuracy, in the tolerance range of up to ± 0.2 °C, contributes to the optimum quality of the product. As an additional option, Vomat offers a high-control accuracy cooler with external condenser and high- control accuracy, as well as a material-dependent, pre-separation system.
Due to the precoat principle, there is no contamination of the swarf by filter aids, and its residual moisture remains at five to ten percent. Additionally, the control technology can be monitored and operated remotely, while recyclable material processes directly into easy-to-transport containers for disposal.
Want more information? Click below.
Copyright © 2023 by Nelson Publishing, Inc. All rights reserved. Reproduction Prohibited.
View our terms of use and
privacy policy
::m::