Auto Parts Manufacturer Doubles Productivity with 40 Cobots
Aido Industry, a Japanese OEM manufacturer of automotive parts using aluminum die-casting and cutting processes, was facing a chronic shortage of human resources, resulting in a low profit margin despite increasing sales. That changed once they found Universal Robots.
In the Aichi Prefecture region in Japan, where Aido Industry is located, there are many large auto parts manufacturing companies and always a shortage of human resources. Labor costs, such as salaries for temporary workers, were high, and even if sales increased, profits did not.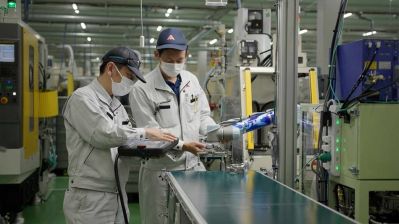 Employees at the Aido factory are able to easily adjust the cobot's movements. "It's a true collaboration."
In the process of formulating countermeasures, the company analyzed its process work and found that many repetitive tasks, such as loading and unloading workpieces, were suitable for robots.
Initially, the company considered introducing conventional industrial robots, but the high system cost was a deterrent. That's when the manufacturer discovered Universal Robots.
In 2016, Yusuke Watanabe, President of Aido Industry, encountered UR cobots at a trade show: "Until then, we thought it would be impossible to build a robot system without help of a system integrator, but with the UR cobot, we found out that we could do that by ourselves. So, we decided to introduce it."
Yoshiyasu Ogawa, Manager of the Maintenance and Die Casting Engineering Office, was involved in the development of the robot system. "Before, I was working in the food industry, managing a restaurant, so I had no knowledge of robots. With the help of a distributor, Sangen Corporation, I was able to achieve what I wanted to get the cobot in operation."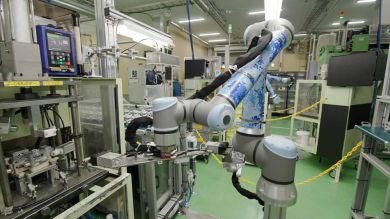 2 UR10e cobots are in charge of tending 4 machines.
The first application deployed was the air blowing process for the workpieces after cleaning. To completely dry the complex shaped workpieces, it is necessary to blow into the holes. By attaching air nozzles to the cobot arm, it is now possible to dry even the narrow holes that are difficult to do manually.
Other UR cobots are in charge of machine tending for a series of processes including: picking a workpiece from the conveyor, performing two leak tests, cleaning, and placing the workpiece on the finished product conveyor after air blowing.
The robot hand is self-made so that it can handle multiple processes at once.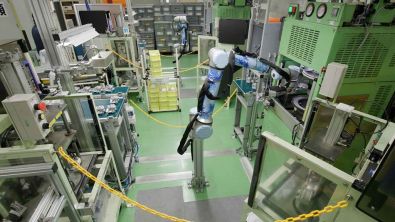 This cobot transfers the workpiece to the cleaning and blowing process.
"We were able to reduce manpower by automating processes that used to be done by humans. Also, with humans, there is a possibility of skipping a process or misjudging a defective product as a good one, but by replacing them with cobots, we no longer have to worry about that," added Ogawa.
Over the past three years, Aido Industry has installed 40 UR cobots and doubled its productivity, but this is not the only benefit of introducing cobots.
"The robots do not have the ability to detect problems on their own, but when the employees and workers in the factory find something not suitable in the cobot's movements, they change the robot program to make improvements," explains Watanabe "By incorporating human wisdom into the cobot, we are able to further increase productivity. I think this is true collaboration," said Watanabe.
Want more information? Click below.