New Hybrid Tool and Peel Grinding Machine Offers "Ultra‐Lean Grinding Process"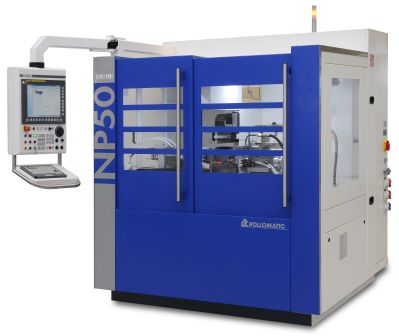 Rollomatic has launched a brand‐new hybrid model for combination grinding of tool geometries as well as peel grinding for neck, plunge and other blank prep operations.
The new GrindSmart 660XW is a 6‐axis tool and peel grinding machine. It allows the user to utilize cost‐effective and advanced lean manufacturing principles; termed as "Ultra‐Lean Grinding Process."
The GrindSmart®660XW has been designed for rotary cutting tool applications ranging from diameter 0.1 to 12.7mm in an amazingly compact layout which includes a large capacity tool loader and a high-speed wheel changer with 6 wheel-pack positions.
The machine features the latest linear and torque motor technology on each axis, as well as a 14kW synchronous spindle motor. All these components are cooled with the same coolant oil providing a perfect thermal stability, unbeatable accuracy in production as well as extremely good surface finish on the tools.
The machine features 4 linear and 2 rotary axes. The unique aspect is the workhead which is mounted on a CNC linear axis. With this feature, the tool grinding and the well-known Rollomatic peel grinding process are combined together into a single machine model.
The benefit of the traveling workhead for peel grinding operations is that the grinding wheel is always on top of the steady rest while the workhead axis is pushing the tool through the grinding wheel, providing excellent process stability. This CNC workhead axis is also a great benefit for drill applications, as an innovative steady rest design combines optimal tool support for fluting and for pointing.
Want more information? Click below.
Copyright © 2022 by Nelson Publishing, Inc. All rights reserved. Reproduction Prohibited.
View our terms of use and
privacy policy
::m::