Stratasys' Latest Offerings at Forefront of Shift to Full-Scale Additive Manufacturing (Watch Video)
Stratasys Ltd. is introducing solutions for advancing additive manufacturing at production scale, including new innovative material offerings, an expanded software partner ecosystem, and the availability of new polymer 3D printing systems for the U.S. market.

VIDEO: Stratasys' H350 Printer
"We are at the forefront of the shift to full-scale additive manufacturing, powered by 3D printing, with our best-in-class solutions for the entire product value chain," said Stratasys Americas President Rich Garrity.
Expanded Material Options
Stratasys continues to expand its ecosystem of materials to offer customers a variety of options across 3D printing technologies and solutions. The company recently announced new materials for the Stratasys H350™ and Stratasys Origin One™ 3D printers and a new Origin® Open Material License (OML) for the Origin One.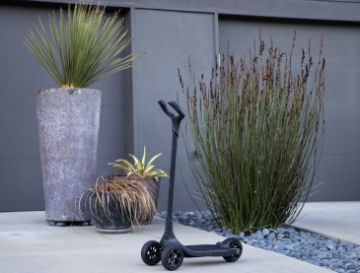 Kick scooter printed with Stratasys Dura56 by LOCTITE
The SAF™-powered Stratasys H350 3D printer is specifically designed for the mass production of end-use parts with consistency, and the ability to customize and control the production workflow. The H350 will initially utilize High-Yield PA11, a sustainable material derived from 100% bio-based castor beans.
In addition, in 2022, PA12 (also known as Nylon 12) will be available for the H350. PA12 provides dimensional stability, chemical resistance and impact strength, and has been used across various additive manufacturing printing technologies for creating jigs and fixtures, tooling, and functional end-use parts.
Supporting Industry 4.0 with a Growing Software Ecosystem
The GrabCAD Software Partner Program has added eight software partners so far in 2021, enabling Stratasys customers to integrate additive manufacturing into their Industry 4.0 initiatives. Stratasys has announced the newest addition to the GrabCAD Software Partner Program -- AMFG.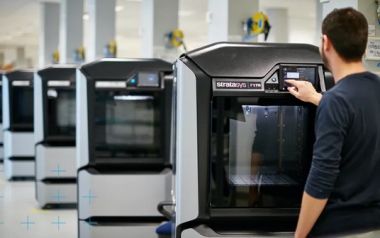 GrabCAD Print software makes 3D printing easy, so you get quality 3D printed parts faster and simpler.
AMFG, a leading provider of Manufacturing Execution System (MES) and workflow automation software for additive manufacturing, has partnered with Stratasys to deliver advanced AM solutions that combine AMFG's workflow automation expertise with Stratasys' 3D printers and GrabCAD software. AMFGs software solution enables connectivity across the production workflow, streamline processes, and provide greater levels of traceability and visibility.
Further, the combination of Stratasys 3D printing solutions with AMFG's fully automated order management, routing and production scheduling tools enable fully automated end-part production at scale.
"The combination of Stratasys hardware, GrabCAD software and AMFG's market-leading additive MES platform, is a game changer for AM operations looking to scale through automation, while increasing overall traceability, utilization, and quality," said Danny Winn, Vice President of Growth and Innovation for AMFG.
Want more information? Click below.