Auto Manufacturer Solves Labor Shortage Problem While Cutting Costs by 35%
Yokoyama Kogyo is a Japanese manufacturer of car seat frames and various automobile parts. Challenged by the labor shortage, Yokoyama has turned to collaborative automation -- combining OnRobot's RG2 Gripper with the AUBO Cobot -- to cut costs by more than a third.
Established in 1951 in Toyota City, Japan, Yokoyama Kogyo is a leading metal stamping manufacturer for the construction and automotive industry. The company has around 200 employees in Japan.
Yokoyama's patented pressing technology -- called the SFP (Smart Forge Press) method -- has been widely adopted in Japan.
The Challenge
Like many other countries, Japan is seeing a shrinking labor pool in the manufacturing sector, presenting a challenge for companies like Yokoyama.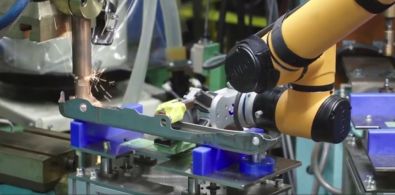 "Manufacturers have been facing labor shortages especially during the pandemic and there is an urgent need to deploy automation," says Yokoyama Eisuke, CEO and President of Yokoyama Kogyo.
His company needed to automate part of its production process on the metal stamping machine. At the same time, employees also needed to maintain access to the pressing machine safely.
The Solution
A collaborative robot application was the clear choice for Yokoyama.
Combining OnRobot's RG2 Gripper and the AUBO cobot, the manual processes of loading and unloading parts are now fully automated. Importantly, the collaborative application does not require a big footprint and it is able to work safely alongside employees; no safety fence is needed.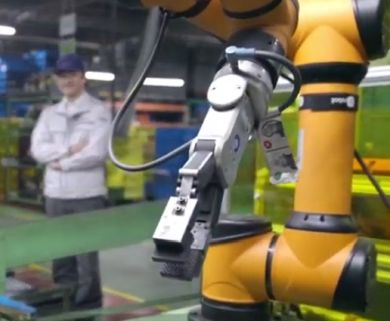 With unlimited customization to fit various needs, the small, lightweight RG2 gripper is perfect for tight spaces. The fingertips of the gripper can be easily customized, fitting the product shape for stable gripping.
"OnRobot provides simplicity and ease of use, which saves us a lot of expensive engineering hours that are usually required with typical automation projects," says Mori, Assistant Chief of Technology for the Manufacturing Department.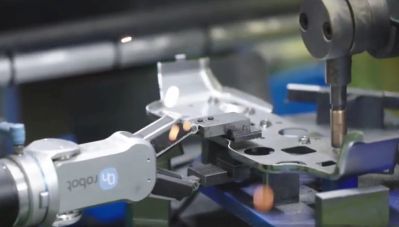 Employees of Yokoyama now do not have to perform strenuous, repetitive work on the machine. They no longer need to be stationed at the machine for hours, but instead they are able to focus on higher value duties.
The collaborative application has helped Yokoyama achieve an overall 35% cost reduction while maintaining work safety and high-quality output.
Yokoyama has taken advantage of the cost savings by establishing a manufacturing facility in Thailand to fulfill the continued growth of the automobile industry in that region.
Want more information? Click below.