Unique 6‐Axis Tool Grinding Machine Features 16‐Station Wheel Changer
Rollomatic's 6-axis precision tool grinder -- GrindSmart® 630XW3 -- has been designed for high performance and specialty tool manufacturing for both long and short batches.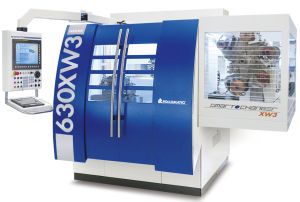 GrindSmart® 6‐axis tool grinding machine with 16‐station wheel and nozzle changer
It is equipped with linear motors, combined with the torque motor on the rotary axis, that provide more benefits such as enhanced surface finish and reduced maintenance costs. The oil used for cooling and lubricating the linear motors is the same as the coolant oil. This ensures consistent thermal stability during setup and production without incurring additional energy consumption.
The 6th axis concept of this machine is unique in the grinding industry. It provides improved accuracy on ballnose endmills, or corner radii with a possibility to incline the grinding wheels and allows for easier programming with shorter empty moves during grinding operations. This machine covers a wide range of diameters.
As standard, this model includes automatic high-speed pick & place tool loader with a capacity of up to 1,360 tools with a high-speed wheel & nozzle changer with 16 positions.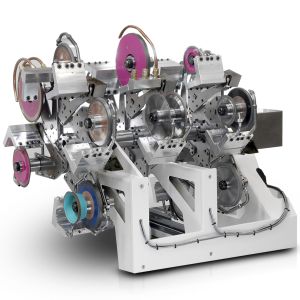 16‐station wheel and nozzle changer
The ultra-efficient synchronous spindle motor on the 630XW3 and XW models provides constant rotation speed and torque regardless of the motor load. This technology offers the advantage to obtain perfectly consistent and high-quality surface finishes, especially when the motor load is high.
Highlights:
Simultaneous change of wheel packs and associated coolant manifolds with coolant nozzles.
World's smallest footprint of a 16‐station wheel changer (only ads 30" to the width of the machine).
Tool unload/load happens simultaneously during wheel change to shorten cycle time.
Embedded intelligence to keep frequently used wheel packs in front to shorten cycle time.
The wheel arbors are HSK‐type with a proprietary attachment design that guarantees less than .00005" TIR over the life of the grinding spindle.
Allows highest productivity in small-batch grinding of complex and high‐performance cutting tools.
Enhanced autonomy.
Want more information? Click below.
Copyright © 2022 by Nelson Publishing, Inc. All rights reserved. Reproduction Prohibited.
View our terms of use and
privacy policy
::m::