Sandvik: First to Offer 3D Printed Super Duplex Components to the Market
In terms of withstanding harsh elements, there is one material family that unarguably stands out. Produced and optimized for additive manufacturing in-house at Sandvik Additive Manufacturing, Osprey® 2507 is a super duplex alloy that has excellent corrosion resistance and outstanding mechanical strength.
VIDEO: Just imagine what additive manufacturing can do.
For decades, Sandvik has been leading the materials evolution for duplex stainless steels -- continuously launching new duplex and super duplex materials that, with their improved properties, are an undisputable part of Sandvik's DNA. Sandvik's super-duplex stainless steels are already successfully used in highly corrosive environments such as the seawater exposed offshore energy sector, and in demanding chemical processing. Predominantly used in the shape of seamless tubes, plates, and bars, super-duplex steel has proved a challenge in additive manufacturing -- up until now.
"By leveraging nearly two centuries of materials expertise and industry leading know-how along the additive value chain, we are proud to say Sandvik is the first to offer 3D printed super duplex components to the market," says Mikael Schuisky, VP and Business Unit Manager at Sandvik Additive Manufacturing. "While many have tried and failed, we are very pleased to have seen components printed to a standard that doesn't just meet but outperforms that of several conventionally manufactured counterparts."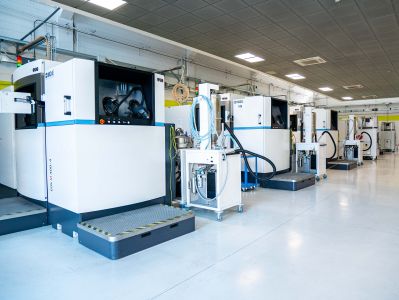 BEAMIT Group offers an extensive line of AM machines.
Since 2019, Sandvik owns a significant stake in the BEAMIT Group -- Europe's leading AM service provider that support the most demanding industries with high-end metal components. Adding the capabilities of the BEAMIT Group -- including one of the most extensive AM machine parks in the industry -- makes for an even stronger offering, specifically for customers looking to produce larger scale components.
"We are very excited to co-launch this potent combination of a superior material and the disruptive benefits of additive manufacturing to the market," says Michele Antolotti, Engineering and R&D Manager at the BEAMIT Group. "Having already developed print parameters for single-laser machines, we are now progressing to expand our joint offering to include even larger applications. With the profound materials expertise within Sandvik, and BEAMIT Group's market-leading abilities throughout the additive value chain, we are truly in a unique position to supply the offshore industries with an array of business-critical benefits, in terms of component performance and timely production alike."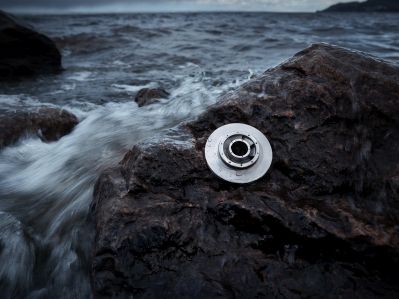 3D printed impeller from Sandvik
Sandvik already presented an "impeller reinvented" -- a lighter, faster, and more efficiently manufactured offshore essential, developed in collaboration with energy giant Equinor and Norwegian Eureka Pumps. Now projects across various marine segments -- where super-duplex stainless steel is the material of choice -- are on-going, all according to Sandvik's "Plan it, Print it, Perfect it" approach, stating that printing is just one of the seven steps you need to master to succeed with the industrialization of AM.
On May 18th, 2021, the next episode of interactive webinar series "Additive By Sandvik: Material Matters" airs. Guided by Sandvik's leading experts in metal powder and additive manufacturing, the episode offers a deep-dive into the game-changing combination of super duplex stainless steel and 3D printing.
To register and learn more about the event, click below.