New Cobot Welder Delivers Advanced Robot Welding via Easy-to-Use Smartphone App
Hirebotics' Cobot Welder, Powered by Beacon™, is a complete, user-friendly collaborative robot (cobot) welding system that enables painless automated welding deployments.
Watch the Cobot Welder in action here.
"The Cobot Welder is a major leap forward in easy-to-use welding automation that combines industrial grade robot welding functionality with consumer level ease-of-use and a phenomenal price point," says Rob Goldiez, Cofounder and CEO, Hirebotics.
The system makes it easy to teach new parts and welds using the ingeniously simple Cobot Welder cellphone application that runs on Hirebotics' cloud-based Beacon software platform. Beacon, which Hirebotics launched in 2020, is a UR+ certified, powerful platform for cobot application building and remote cobot monitoring, maintenance and 24/7 global support.
Complete and ready to go right out of the box, Cobot Welder provides all the hardware and software required to get started on an automated welding deployment, including: a UR10e collaborative robot, a Miller Invision 352 MPa cobot package, a Tregaskiss robotic torch, a mobile cart with a standard 5/8" diameter on 2" center hole pattern, and Hirebotics' ingenious Cobot Welder smartphone application.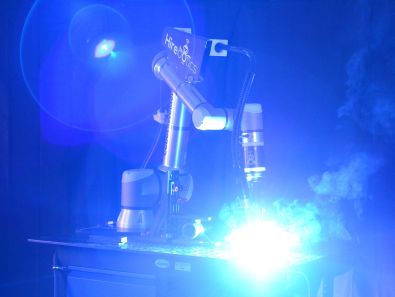 "With Cobot Welder, Hirebotics has managed to eliminate the pain points from robot welding system deployments. At the heart of the system is our Cobot Welder smartphone app, which turns welders into robot programmers in a matter of minutes, no pendant required," says Mitch Dupon, Director of Business Development at Hirebotics. "By reducing the time taken to teach new parts by as much 60%, Cobot Welder reduces downtime, improves welding quality and productivity and ensures painless automated welding deployments."
Want more information? Click below.