Perfection is Mandatory for Nuclear Parts Manufacturer
When supplying nuclear-grade materials and machined components for nuclear power utilities, precision is essential. That's why Laker Energy Products turned to Renishaw's scanning system and Phillips Precision's modular fixturing system.
Imagine the demand for quality that is required of a leading supplier of nuclear-grade materials. Laker Energy Products, located in Oakdale, Ontario, Canada supplies nuclear-grade materials and precisely machined components for CANDU® nuclear power utilities around the globe. The company is dedicated to the nuclear industry which requires the very highest level of performance.
VIDEO: Laker Energy Products
Delivering perfect parts fast is critical in this industry so they are laser focused on manufacturing quality starting with their expert engineering team, talented machinists and down the production pipeline to their quality inspection department. Because after all, there is no tolerance for error in the nuclear industry.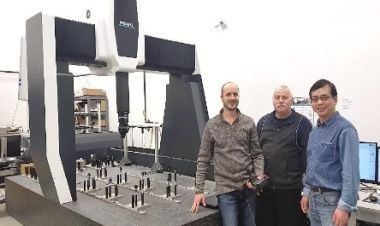 Pictured from left to right, Bill Reilly, of 1Source Metrology, Don Corbett, Laker Quality Inspector, Charlie Wang, Laker Quality Inspector. Also pictured: Wenzel LH 1210 (12-20-10) with Renishaw Revo5 axis scanning system in addition to a compliment of Inspection Arsenal® Loc-N-Load™ quick-swap modular fixturing.
In support of their impressive manufacturing process, Laker recognized the need to speed up inspection. Manufacturers often complain that quality inspection is the bottleneck in the production pipeline -- slowing and even stopping expensive spindles. Scrapped parts due to uninspected production are a very costly and potential unsafe side effect, not to mention the potential damage to a company reputation that could result in lost business.
Production advancements historically focus on the shop floor with faster and higher production, more accurate equipment along with sophisticated work holding solutions. Quality inspection has not benefited from an equal level of attention. Traditional machine shops and even large manufacturers operate with a shortage of inspectors, especially ones with skills in high-level programming and design of the more complex inspection setups.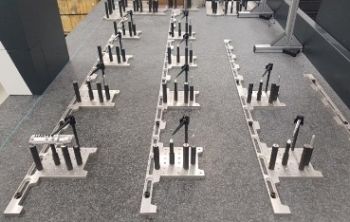 1Source recently outfitted Laker's large Zeiss Accura CMM (4-metermachine) with a couple of long rails, 14 plates and 14 custom made V-blocks to hold a specific part and got it loaded up for automatic hours of run-time.14 parts, each with about a 45-minute run-time, allowing them to run continuously through the night, lights out!
As the demand for documented, perfect parts grows and manufacturers realize the true cost of an impaired inspection process, typically they need to look for outside help for solutions. Examining the inspection process from the standpoint of equipment, probing, software and the most efficient fixturing requires a group of experts who are not likely on the payroll.
Laker turned to a trusted local solutions company, 1 Source Metrology of Cambridge, Ontario. Having worked with 1 Source for a couple of years, Laker tapped them to design and implement the process improvements they envisioned.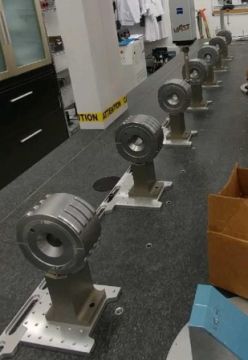 "We have installed Inspection Arsenal® and we are using it. I am very happy with the system. Very slick. Love that setup with rail and plates...so quick!" Drazen Gavran, Quality Control Manager / Chief Inspector, Laker Energy Products Ltd., Oakville, Ontario, Canada.
Unique in their services, 1Source Metrology is not only a preferred dealer of CMMs, but they also support virtually any CMM and any software on the market, their collective knowledge, experience and strategic partnerships allow them to deliver a tailormade solution for just about any situation. They fill the skills gap with their contract CMM programming (on site or offline), contract inspection, CMM software and/or GD&T training, new equipment and upgrades/retrofits (CMM, CT Scan, Optical Scan), custom fixturing solutions, CMM probes and standard modular fixturing.
Familiar Problem
Like most inspection departments, Laker's quality inspectors did not have the equipment with the right tooling to keep pace with production. Most parts were measured one at a time, with the exception of one part loaded 7 at a time, on V-blocks and hot glued brackets that did not remain square to the CMM axis. Typical part runs are roughly 200 parts requiring100% inspection.
Solution Components
For Laker, 1Source designed a solution that included a Wenzel LH 1210 with Renishaw Revo 5 axis scanning system and WM Quartis software. In addition to a compliment of Inspection Arsenal® Loc-N-Load™ quick-swap modular fixturing which included 9 each of the 30" docking rails added end-to-end for three rows of 90"and 40 each of the Loc-N-Load™ 6x6" fixture plates loaded with the appropriate standard fixturing.
Process Improved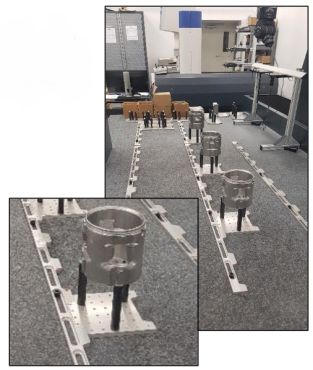 The need for presenting the part square to the CMM & Stylus System is crucial, and so the setup time using the Loc-N-Load™ system is much less than previously. Once the rail is fixed to the table and is square to the CMM axis, there is no longer a need to verify whether the part is presented square.
One of the other big savings noted by running batches of parts, is the automatic hours gained. While the CMM is running unattended for 1-2 hours, the inspectors are off doing another task, essentially doubling their throughput. They run 2 shifts, with a 4-hourgap overnight so they also run batches of parts overnight while nobody is there -- another huge gain in throughput without man-hours to attribute.
Want more information? Click below.