VMC's Enhanced Control Can Turn You Into a "Smooth" Operator
Mazak's new VARIAXIS i-800 NEO Vertical Machining Center offers manufacturers an enhanced version of a popular 5-axis machine, with a powerful CNC, faster machining cycle times, expanded workpiece capacities and more automation options.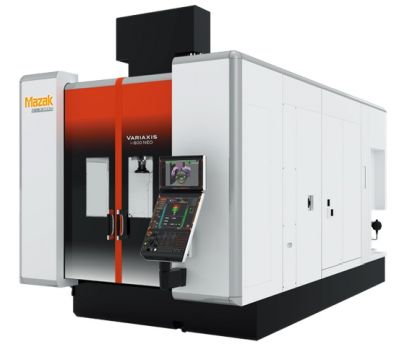 Among the primary enhancements on the VARIAXIS i-800 NEO is the MAZATROL SmoothAi CNC. It features such functions as SMOOTH Machining Configuration (SMC) for process optimization with real-time operator control of a wide range of cutting parameters and Ai Thermal Shield for stable machining accuracy through smart compensation for heat displacement. Also, with the launch of the MAZATROL SmoothAi, Mazak introduced its SMOOTH Project Manager Gateway software as an available option.
Working with external CAM software such as Autodesk's Fusion 360, SMOOTH Project Manager Gateway allows access to internal machine data, which enables the Fusion 360 programmer to query the machine to download machine models, current tooling configuration, offset data, stroke limits and many other configuration parameters. This information can then be used at the CAM workstation to create more accurate machine programs configured to the limits and capabilities of the actual machine.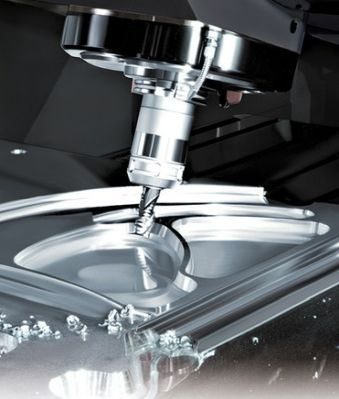 Additionally, highly realistic program simulations with current, real-time setup information can be achieved giving even less experienced operators the confidence they need to run highly complex part programs. The machine's tooling configuration can be modified and updated at the Fusion 360 workstation and sent back to the machine for operators to complete the setup more accurately than ever before.
In terms of speed, the VARIAXIS i-800 NEO now achieves rapid traverse rates of 1,890 ipm (48 m/m) in the X, Y and Z axes that contribute significantly to reduced cycle times. To accommodate larger workpieces, axis strokes increased to 29.52" in X, 35.03" in Y and 23.62" in Z (750 mm/890 mm/600 mm). Maximum workpiece weight capacities are 2,204.62 lbs (1,000 kg) on the single-table version of the VARIAXIS i-800 NEO, and up to 1,543.24 lb (700 kg) with a two-pallet changer.
The machine now handles maximum tool lengths up to 16.33 inches (415 mm) in available magazine capacities of 30, 40, 80 120 tools. A new servo drive shortens tool wait times by up to 58%, and a 4.3 second chip-to-chip tool change time helps further reduce noncut time.
Want more information? Click below.