CNC Lathes Complete Simple Jobs Without Any Type of Programming
Romi's C Series CNC teach lathes includes six models ranging from the C 420 with a 17" (430 mm) swing over bed, a 4,000 rpm 12.5 hp main motor, and 39" between centers, to the C 1000 with a 40" (1,000 mm) swing over bed, a 500 rpm 45 hp main motor, and up to 197" between centers.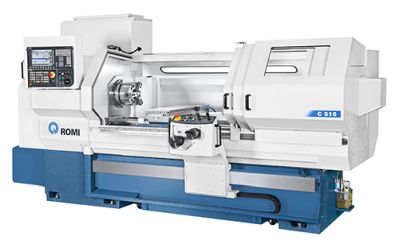 Each Romi C Series lathe is equipped with the Romi Manual Machining Package (RMMP) that allows simple operations to be completed without any type of programming. It is as simple to use as a manual lathe but with the added capability and productivity of a CNC Lathe.
Using the RMMP, an operator can machine parts in manual mode using the handwheels, and also in automatic mode using a joystick and start cycle. The operator can also fill in the fields on the CNC screen, indicating spindle speed, feeds, cutting depth, coordinates, and angles, and start the machining with the cycle start button.
All key components of Romi C Series lathes, including the robust monoblock bed, are designed and built in house for complete control and assurance of manufacturing quality. The beds feature a robust structure supported by cast-iron columns and are internally ribbed to absorb vibrations during machining.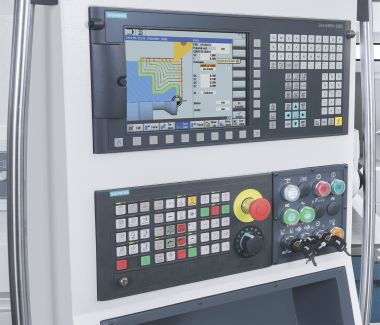 Flat and prismatic guides are hardened and ground to ensure high wear resistance and are self-adjusting to provide permanent contact of the cross slide over the bed. These features result in high rigidity, stability, and precision in machining operations at full power.
All C Series models are equipped with a Siemens Sinumerik 828D CNC. The high-performance CNC features a 10.4" LCD color monitor and provides excellent conversational programming, operation, and machining simulation resources.
Want more information? Click below.