New Shields Protect Machine Operators from Flying Debris, Coolant and Swarf
When it comes to milling machines and drills, a safety shield can make the difference between a productive day and a very serious injury. Yet sometimes a standard shield isn't rugged enough, or it limits visibility due to reflectivity, or an operator is able to simply bypass it by pushing it out of the way, thereby making the machinery unsafe to operate.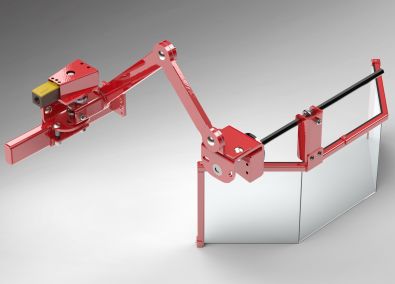 To combat these issues, Rockford Systems has introduced PROTECTOR Shields for safeguarding mills, drills, lathes, grinders and other cutting and turning machines.
Constructed of 14-gauge powder-coated steel and thick 3/16" shock-proof, scratch-resistant polycarbonate, PROTECTOR shields defend operators from flying debris, lubricants, coolants and swarf. Plus, they incorporate cool, bright LED lighting into the frame to illuminate the work area for shadow-free, detailed visibility so nothing is missed by the operator.
Some models also feature color-changing LED lights to indicate when the shield is open or closed. For additional protection, an interlock will disengage power and prevent a connected machine from starting up when a PROTECTOR shield is not in the correct work position, thereby solving the operator bypassing problem. An optional safety monitoring relay can also be added to monitor the interlock switch for failure or damage.
Rockford Systems PROTECTOR Series Shields are modular in design so that shape, size, mount, arm, offset, lighting, interlocking and safety monitoring is easily configured to provide the best solution for the specific machine. PROTECTOR shields are manufactured by Rockford Systems LLC in Rockford, Illinois.
Want more information? Click below.