Offline Dressing Machine Prepares CNC Wheel for Next Job Without Stopping Grinding Process
Glebar's DM-9CNC Wheel Dressing Machine is a stand-alone machine that provides operators with the ability to dress grinding wheels while the grinder is in production.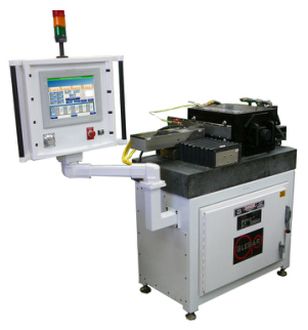 Available for 9" and 10" diameter wheels, the machine CNC dresses precision contours in vitrified grinding wheels. The shape can be transferred from a CAD drawing into G-code which the DM-9CNC can read to form the wheel.
Alternatively, for simpler geometry, the operator can enter the dress profile in a tabulated form on the 15" touch screen HMI. A diamond plated dress roller is powered by a high-speed brushless servo motor offering high torque and closed-loop velocity control up to 10,000 RPM. Additionally, two axis servo-driven slides use a 0.1 micron glass scale to precisely position the dress roller.
"Dressing wheels off of the grinding machine itself has typically been a manual operation requiring a highly skilled technician, often resulting in rework and increased set up time. Once the DM-9CNC is set up, it can run unmanned, shaping a grinding wheel for your specific application," explained John Bannayan, CTO at Glebar Company. "This allows the manufacturer to run their grinding machine process while simultaneously truing a wheel for the next job, reducing set up time and increasing overall output."
When purchasing a machine isn't practical, Glebar offers its customers wheel dressing as a service using the DM-9CNC Wheel Dressing Machine.
Want more information? Click below.
Copyright © 2021 by Nelson Publishing, Inc. All rights reserved. Reproduction Prohibited.
View our terms of use and
privacy policy
::m::