New AM System Can Process Reflective Metals
Wayland Additive is commercially launching its first production system -- Calibur3 -- on January 27th.
Wayland's NeuBeam process -- encapsulated in the Calibur3 System -- eliminates many of the compromises that users of metal AM processes have had to make to date both for part development and in full production. NeuBeam overcomes the inherent instabilities of traditional eBeam processes and the internal residual stresses typically associated with laser powder bed fusion (PBF) processes to offer a truly stable and flexible process. NeuBeam also exhibits unrivalled metallurgy capabilities and can process a much wider range of metal materials, including reflective metals.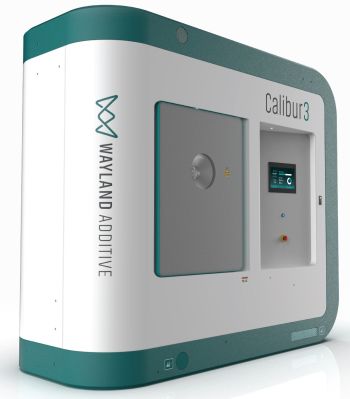 Designed specifically for production applications, the Calibur 3 incorporates fully embedded in-process monitoring capabilities that provide full oversight during every build and ensures full traceability for every part.
Will Richardson, CEO at Wayland Additive says, "After the months and years of research and development into our NeuBeam technology and the creation of the Calibur3 system, it is extremely exciting to move to commercial launch status. We believe that launch of this technology marks a seminal moment for metal additive manufacturing in industrial production scenarios. It is a true blue-ocean technology that will change forever the perceptions and use of metal additive manufacturing moving forward."
The NeuBeam process is capable of producing fully dense parts in a wide range of materials, many of which are not compatible with traditional eBeam or laser PBF processes such as refractory metals and highly reflective alloys. As a result, the process can demonstrate vastly improved metallurgy, without many of the compromises that existing metal AM processes necessitate.
Both the physical and virtual events can accommodate limited numbers, and so it is advised that interested parties register as early as possible.
Want more information? Click below.
Copyright © 2021 by Nelson Publishing, Inc. All rights reserved. Reproduction Prohibited.
View our terms of use and
privacy policy
::m::