Australia's Largest Machine Tool Ever: 5-Axis Gantry to Help Build Fleet of Submarines
The Australian Government (Commonwealth of Australia) selected French company Naval Group to deliver a fleet of 12 regionally superior submarines, to be known as the Attack Class, for the Royal Australian Navy. The Attack class fleet will be built in a modern submarine construction yard in Osborne, South Australia.
As the design of the Attack Class progresses, Naval Group continues to deliver on its commitment in cooperation with their suppliers that now includes the Starrag Group.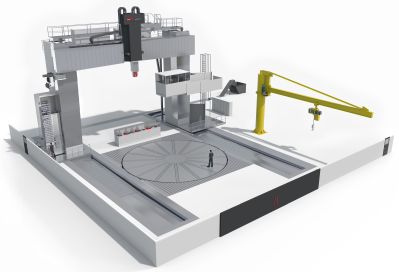 Dr Marcus Queins, Manager for the Large Parts Machining Systems business unit at Starrag, explains, "We are proud to be involved in this prestigious project in Australia."
Starrag has been selected to supply a Droop+Rein G 110TT HR100 C vertical gantry machine, capable of handling both large hull elements and high-precision components for submarine construction. With traversing paths of 14,000 x 13,000 x 3,500 mm (45.93 x 42.65 x 11.48 ft) in the X/Y/Z axes and an 11 m (36 ft) turntable, the gantry will be the largest machine tool ever put into service in Australia.
Starrag is collaborating with the Australian machine tool manufacturer H&H Machine Tools Australia to deliver this critical equipment. H&H will manufacture key components, supply qualified personnel to help install the gantry and provide technical support for the entire life cycle of the machine, securing an ongoing role in servicing and maintenance in the future. Starrag will provide H&H with the necessary expertise through onsite training and quality control, transferring critical skills and autonomous ability to Australian industry.
Few machine suppliers can manage an order of this magnitude from over 15,000 kilometers (9320 miles) away -- but this was not a problem for the Starrag Group, as Australian sales partner H&H Machine Tool Solutions will facilitate local work, ensuring that everything runs smoothly onsite.
Gantry Machine for Precise Heavy-Duty Cutting of Large and Heavy Workpieces
The size and efficiency of the milling machine being supplied, which is also capable of turning components thanks to the integrated rotary table was of fundamental importance.
The Droop+Rein G 110 TT HR100 C owes its high precision to features such as the hydrostatic guides in all linear axes, as well as the thermo-symmetrical design of the milling unit with its integrated C axis. Milling heads can be changed automatically via a head change interface.
The team responsible selected five different machining heads to use on this project. The high-performance fork milling head features not only the ability to use the tool at any angle but also the necessary prerequisites for heavy-duty machining on five axes simultaneously. Alternatively, the machine can be used with one straight and one angled 100-kW (134HP) milling head with a torque of 7,500 Nm (5531 ft-lb). A turret and a horizontal facing head are available for turning operations on the components.
The large, multifunctional machine supplied by Starrag from its Bielefeld plant gives the operator optimum access. The operator can reach any point on the workpiece thanks to the spacious cabin, which travels along the gantry and features the latest Siemens operator panel.
Want more information? Click below.