Innovative Edge Finder Works with Doors Open and Spindles Off
True to its reputation as a "manufacturing laboratory," Phillips Precision, Inc. continues to improve manufacturing processes world-wide with its latest M5 Edge Finder™.
As evidenced by the Pitbull® Clamp, Inspection Arsenal®, and Laser Arsenal® work holding solutions, inventor and owner Steve Phillips has the gift of designing simple, effective, low-cost and industry changing products.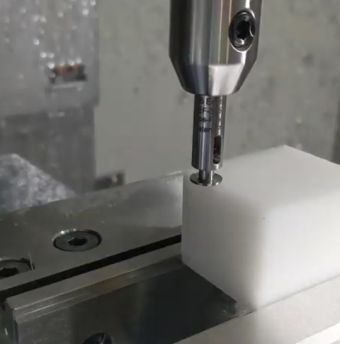 With the M5 Edge Finder™, shops can:
Edge-find with doors open and spindles off!
Find the center of a hole or counterbore
Use effectively on all materials -- even plastic
Solves safety door lock issues
Eliminate OSHA violations
Get up close and personal
Say "Goodbye" to expensive spindle probes
Train on equipment conveniently and safely
Simple to Use
With the spindle off, compress plunger on top of the work piece.
Move M5 Edge Finder to edge gradually until plunger drops. This indicates centerline of spindle is .200" from edge.
DO NOT RUN SPINDLE and be sure to move spindle up in Z, as usual.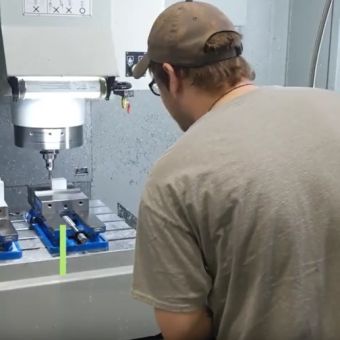 Made from 4140 pre-hardened steel, the tool has high repeatability and is very accurate -- better than most edge finders at .0005".
According to Steve Phillips, "Edge finding with today's CNC machine is a headache with the doors closed because of the safety interlock. It's almost impossible to see a traditional edge finder through a pitted, coolant-soaked, chip covered window and if you override the safety switch to run the machine with the door open, companies can face massive fines!"
Want more information? Click below.
Copyright © 2023 by Nelson Publishing, Inc. All rights reserved. Reproduction Prohibited.
View our terms of use and
privacy policy
::m::