New "Bullet" Plane May Cause Some Turbulence in the Aerospace Industry
It may not feature a traditional super-aerodynamic look, but the Celera 500L sports a "bullet" design that its creator, Otto Aviation, says is the future of fuel-efficient, small commercial plane flight. Boasting 18 to 25 mpg and a range of over 4,500 nautical miles, the six-passenger plane prototype already has 31 successful test flights under its belt.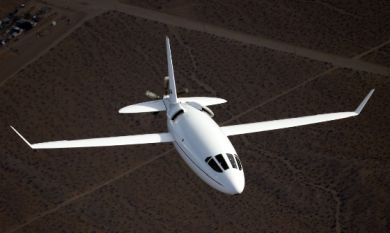 Otto Aviation's Celera 500L top view during real-world test flight over the desert.
The claimed range and efficiency, coupled with high cruise speeds of 460 mph and hourly operating costs of $328, make the aircraft a prime candidate for both short- and long-haul flights, with about eight times lower fuel consumption than a jet aircraft that is comparable in size.
Powered by a single, liquid-cooled 12-cylinder piston engine and featuring a five-blade pusher prop, the aircraft has a maximum stated cruise speed of 450 mph and aims to be "the most environmentally friendly airplane in its class." With a coast-to-coast range on a single fill-up, that could prove true if things all work out the way Otto engineers envision.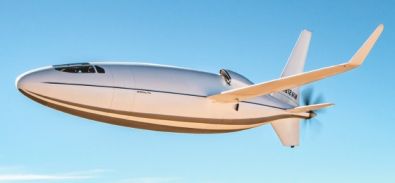 Running on Jet-A fuel or biodiesel, the 550-hp, turbocharged RED (Raikhlin Aircraft Engine Developments) A03 engine effectively operates as two 6-cylinder engines, capable of independent operation with mutually independent critical engine sub-systems for each bank. This design allows for continued power and operation of all critical systems under numerous failure scenarios. Otto says the plane's aerodynamic airframe requires significantly less horsepower to achieve take-off and cruise speeds, which allows for a more fuel-efficient power plant to be used.

VIDEO: Recent Celera 500L test flight highlights.
The Celera 500L's design makes optimal use of extensive laminar flow over its fuselage, wings, and tail surfaces to reduce drag and achieve superior aerodynamics, speed, and fuel efficiency. That's why it has such an unconventional shape. Otto Aviation says the design results in a "59% reduction in drag compared to a similar-sized conventional aircraft" and that the plane "has a glide ratio of 22:1 (typical GA aircraft of similar size have a glide ratio of < 9:1). At an altitude of 30,000 ft, the Celera 500L can glide up to 125 miles with no engine power. This is roughly 3x better than the typical aircraft."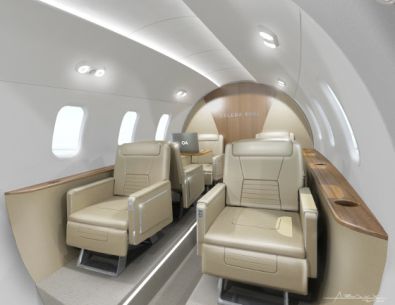 Inside, the Celera 500L has a stand-up cabin height of 6'2" (see, that rounded, bullet design comes in handy) and six first-class-equivalent seats in a customizable configuration. The interior, which has a volume of 448 ft3 (32 ft3 more than a twin-turboprop Beechcraft King Air 350) is flexible in other ways. Reconfigured as a freight hauler without passengers, the plane is capable of carrying a couple of D-sized cargo containers and would most probably specialize in carrying small volumes of high-value cargo.
Military applications also come into play. The aircraft could carry both personnel and cargo for the military, and even be modified to be an unmanned drone. As electric/hybrid technology improves, the plane maker could eventually create a version of the Celera 500L as an ultra-efficient or carbon-neutral craft.

Otto Aviation says the plane design can be scaled up to a maximum of 20% larger while maintaining its unique, extensive laminar flow. This Celera 1000L configuration would almost double the cabin size, fitting more passengers or up to five D-sized shipping containers.
Led by scientist and aviation expert William Otto, the Yorba Linda, CA, company is an offshoot of Otto Laboratories (founded 1974), an accident reconstruction firm. "We believe the Celera 500L is the biggest thing to happen to both the aviation and travel industries in 50 years," Otto said. "Since the results from our prototype test flights have been so promising, we're ready to bring the Celera 500L to market."
First the company needs another round of funding. After that, the aim is for FAA certification by 2023 and product (first plane) delivery by 2025.
Want more information? Click below.