Powerful Block and Plate Bandsaw Shortens Cutting Time for Large/Heavy Steel Workpieces
Specially developed for use in heavy industry, the the KASTObbs block and plate bandsaw is valued by users in steelworks, steel trading companies and many other companies that work with steel.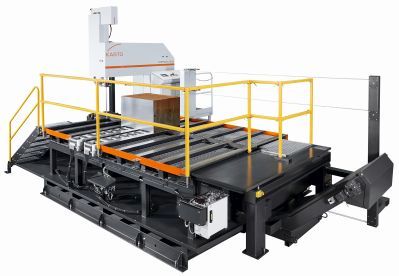 When cutting large and heavy workpieces, the KASTObbs scores with comfortable handling, short cutting times and the best possible results. Users can choose from a range of various semi-automatic and fully automatic machine designs.
The processing of rolled blocks and plates offers a wide range of advantages for steelworks, steel trading companies and manufacturers of tools and moulds. The effort required for subsequent processing steps such as milling can be significantly reduced, for example, and sawed-out "waste pieces" can also be retained for later use, increasing material and cost efficiency.
KASTO developed the KASTObbs block and plate bandsaw to master such challenges. Depending on the model, the machines in the series are suitable for cutting heights of 360 to 2,000 millimeters and, depending on the table length, for maximum cutting lengths between 2,000 and 14,000 millimeters. The load capacity of the material support table is 3,500 kilograms for the smallest model and 64,000 for the largest.
One characteristic feature of the series is the long-cutting method. The sawing unit travels with laterally arranged, hardened and ground rollers on precisely machined rails. The workpiece remains fixed on the sawing table. Compared to other models, this makes these saws particularly space-saving. Their torsion-resistant welded construction also ensures smooth running without vibrations, enabling short cutting times, long tool life and precise results. The electronically controlled saw feed can be optimally adapted to the material quality and cross section. The speed of the saw blade is also infinitely variable. Thanks to the use of carbide or bimetallic bands, the KASTObbs is also ideally suited for aluminium or difficult-to-machine materials such as titanium, Hastelloy and Inconel.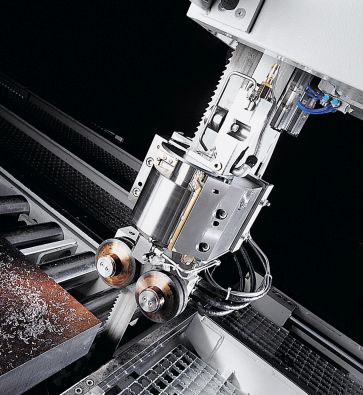 All the display and operating elements of the KASTObbs are located on a control panel that moves with the machine. This ensures a clear overview, an unobstructed view of the workpiece and the safe control of the cutting process. For different automation requirements, KASTO offers the saw as a semi-automatic version (KASTObbs U) and as a fully automatic version (KASTObbs A).
Operators can also choose between different versions with different functionalities for the control of the saw. Touch screen operation simplifies the handling of the machine, the intuitive user guidance provides all the important status and error messages in easily understood language and the integrated order memory offers ideal conditions for unmanned operation.
Want more information? Click below.