Large Capacity 5-Axis VMC Makes Worldwide Debut
Matsuura Machinery USA announces the worldwide debut of the MAM72-52V, a high speed, large capacity 5-axis vertical machining center.
The MAM72 series (with thousands of machines in successful worldwide operation since their debut in 1991) originated the concept of the tower pallet system.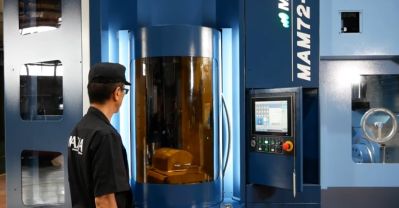 Achieving process integration, complex 5-axis machining, and versatile functionality in all machining environments, variable-part variable-volume production and reliable extended unmanned operation are a standard feature of the MAM72 Series.
The MAM72-52V, is designed to handle a greater workpiece size than existing models, offer faster response times to market and deliver even higher productivity to meet customers' business requirements for ever faster cycle times and cost down performance.
With the new MAM72-52V, the maximum workpiece size is D520 mm x H400 mm with a load capacity of 300 kg per pallet: a 23% increase in diameter, 50% increase in weight, and 75% increase in envelope volume compared to existing models.
In addition, the newly developed 4th-/5th-axis table equipped with direct drive motors achieves a rapid traverse rate of 50 min-1 and 100 min-1 respectively, enabling both high speed and high accuracy in one machine. By reviewing the machine structure, improved accessibility and good operability for setup are ensured since the distance from the machine front (oil pan edge) to the pallet center is reduced to 564 mm and that to the spindle center to 134 mm.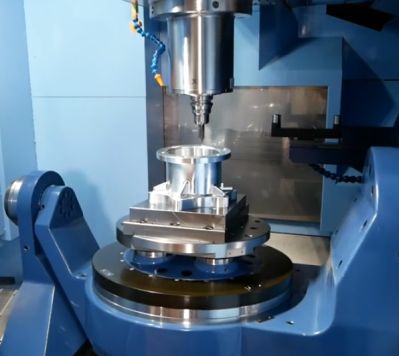 The MAM72-52V is an all-in-one machine that enables variable-part variable-volume production and extended unmanned operation, featuring a matrix tool magazine (130 tools/330 tool magazine base), tower pallet system (PC15) and chip removal system (spiral chip conveyor, lift-up chip conveyor) as standard.
The new machine is IoT ready, delivering measurable remote and real time monitoring of the machine status, condition, and performance. IoT, the internet of things, is a system of interrelated computing devices, mechanical and digital machines, objects, animals or people that are provided with unique identifiers (UIDs) and the ability to transfer data over a network without requiring human-to-human or human-to-computer interaction. This optional feature for outputting machine running data to a host system is available using a communication protocol called "MTConnect" designed for machine tools.
Want more information? Click below.