Partnership Brings 3D Printing Performance to NASCAR and INDYCAR Racing
Since forming a technical partnership agreement with Stratasys in 2017, Team Penske has expanded its use of FDM and PolyJet Technologies for prototyping, tooling, fixturing, and end-use parts in cars and pit equipment.
Now, Stratasys has announced a new multi-year agreement with Team Penske to continue to bring the time-saving benefits of 3D printing to all Team Penske NASCAR, INDYCAR and IMSA SportsCar teams.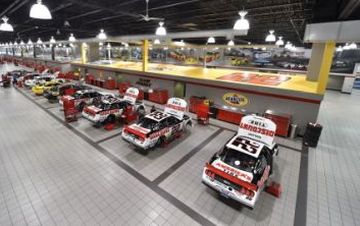 Team Penske's expansive facility in Mooresville, N.C., home to several production-grade Stratasys 3D printers.
"Stratasys has consistently contributed to our ability to reach new solutions for improving our race performance ahead of the competition," said Team Penske President Tim Cindric. "Our 3D printing strategy has always been to produce high-quality parts for our racing operations in the shortest amount of time, and the ever-evolving additive technology from Stratasys gives us confidence in our approach."
Race teams have developed a clear understanding of how vital data is, and they have been gathering as much of it as possible as often as possible, for some time. But being able to apply that data to improving vehicle performance has been a bigger challenge.
Matt Gimbel, Team Penske's production manager, said Stratasys additive technologies have made a big difference. "The Stratasys partnership has allowed us to not only increase our output, but also produce parts in new materials that are immediately installed on race cars," he said. "As a result, we have more design freedom and manufacturing speed to iterate faster to reach the optimum design. Ultimately we get better parts to the racetrack faster."
The efficiencies gained from FDM 3D printing are clear for Team Penske, from fast turnaround time for parts to having developmental bandwidth at the ready. For example, previous options to produce composite layup tooling were limited to the team's CNC machining technology. Now, Team Penske is largely using FDM 3D printers. An idea on Tuesday can be in the car on Wednesday and ready for the weekend race.
Race teams also are increasingly using 3D printed parts in the cars themselves, particularly using Nylon12 Carbon Fiber. Common 3D-printed in-vehicle parts include brackets, mounts, and applications of new designs such as the side mirrors of NASCAR cars. Performance gains are not only achieved on the racetrack; Team Penske also uses 3D printed parts for pit crew equipment.
Want more information? Click below.