Laser Tool Setter for Ultrasonic Machining: Improves Finish and Tool Life
Marposs has announced the availability of its ML75P Special Edition laser tool setter for controlling ultrasonic tool vibration amplitude and frequency.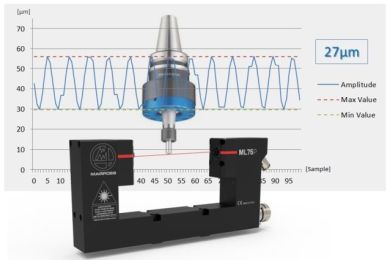 Working in tandem with the new ML4USM software, the ML75P collects thousands of data samples from the vibrating tool tip within milliseconds. The software then elaborates upon the signal from the ML755P and transfers the amplitude and frequency back to the machine for automatic compensation. This helps to improve tool life, workpiece finish and reduce downtime.
Ultrasonic machining removes material from a workpiece through the use of high-frequency vibrations in combination with abrasive particles. By creating many small vibrations over time, material is removed from the workpiece. Ultrasonic machining is the most suitable technology for removing material from hard and brittle materials.
In addition to the ML4USM software application, the ML75P Special Edition requires a dedicated measurement cycle for the ultrasonic machining. It is designed to work with either a Marposs Merlin Plus or GEM Box gauging computer, both of which run on the Microsoft® Windows® operating system.
Want more information?
Copyright © 2021 by Nelson Publishing, Inc. All rights reserved. Reproduction Prohibited.
View our terms of use and
privacy policy
::m::