5-Axis Laser Cutter Designed to Handle Any 3D Parts
With the BLM's new 5-axis LT-FREE laser cutting machine, manufacturers will have a world of unlimited possibilities: laser cutting of any 3D parts and offline programming during the working cycle.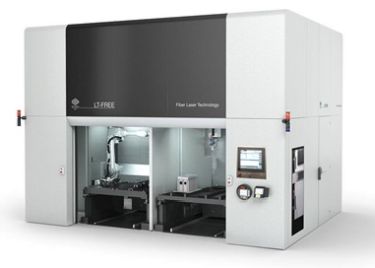 The five-axis laser cutting solution is designed for cutting formed or shaped parts such as bent tubes, hydroformed or stamped components and assemblies. Features include:
System control automatically sets all cutting parameters and optimal focal length based on material thickness and type
Internal cameras allow visual monitoring of machine operation
Five (5) configurations with different material handling features to meet production needs
HIGH FLEX -- Dual robots and dual moving part-table handling system including scrap collection
MID FLEX -- two shuttle tables which automatically shift in and out of the laser work zone making it possible to load/unload and laser process parts at the same time. Processing alternates between the two tables so that production can run uninterrupted
PIECE VALUE - Rotary turn table part handling. Part loading and unloading during the cutting cycle with automatic scrap conveyor

ONE FLEX -- Fized table and roboot handling system
ENTRY LEVEL -- Dual fixed table system for use with dedicated part-positioning supports
Trimming and feature cutting right on the bend -- No limit to part access
High cut quality and accuracy -- parts ready for subsequent robotic welding
Trim or cut features in hydroformed parts
Cut features in assembled frames or components
Artcut software can be used to create part programs of any complexity in a simple, user-friendly 3D graphical environment
Want more information? Click below.
Copyright © 2020 by Nelson Publishing, Inc. All rights reserved. Reproduction Prohibited.
View our terms of use and
privacy policy
::m::