Sunnen's New Website Features Deep Hole Drilling Tools and eCommerce Platform
Sunnen Products Company has launched a new global website as the keystone of a brand refresh that caps an active period at Sunnen -- including the acquisition of BTA Heller, expansion of worldwide manufacturing operations and entry into the deep hole drilling machines market.
The new site is active as of July 8, 2020 and it incorporates Sunnen's BTA Heller deep hole drilling tools, as well as the early stages of a new eCommerce platform.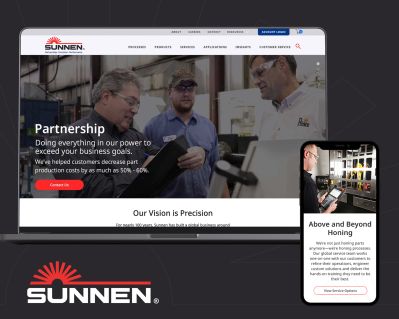 "With nearly 100 years in business, there's a lot of tradition at Sunnen," said Chris Miltenberger, President and COO, Sunnen. "But our innovation continues. The website represents the complete Sunnen as we look today. We're a global company and our business relationships, customer base, and now our website, reflect that."
The new site was designed with recognition of the changing way customers purchase today. 'With as much as 70 percent of a customers' buying journey completed online, Sunnen's goal was to simplify that process, making it easier for potential customers to find the product, technical and performance information needed to make their purchase decision, whether that be offline through a sales representative or online ordering.
The web site includes an e-commerce platform for North American customers which is in beta testing now, with wider rollout expected later this year. The company plans to make most catalog items available to customers who have registered and been validated.
"Our team has designed an eCommerce portal that is both convenient and safe for our customers," added Miltenberger. "Customers can request to be added, and they are verified and approved for entry. Once verified, they will enjoy the convenience of placing new orders or reordering tooling, abrasives and other consumables directly from the site."
Want more information? Click below.