Single Milling Cutter Improves Machining of Aluminum
The automotive industry faces a weight dilemma. Light duty vehicles manufactured in the United States have not always lived up to their name. New components and technologies add weight to vehicles, yet environmental concerns also demand that manufacturers make them lighter. As a lighter material, aluminum can address this, but also presents milling and machining challenges. Here, Eduardo Debone, Global Segment Manager -- Automotive at Sandvik Coromant, explores how a single milling cutter might hold the solution.
Aluminum will always be thought of as the material that allowed people to fly. Its use in aviation predates even the first aeroplane. In the late-1800's, Count Ferdinand Zeppelin crafted the frames of his famous, eponymous airships from aluminium and its lightweight status still stands today. For instance, its use in automotive engine blocks offers the potential for considerable weight savings and improvements in fuel economy.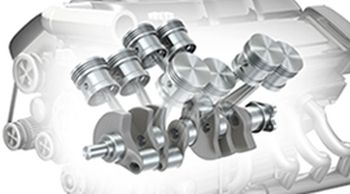 Elsewhere in transport, the power train of a European passenger car typically contains around 80 kilograms (176 lbs.) of aluminum, which makes these parts -- such as the engine and gear box -- an obvious area of interest for light weighting measures. As aluminum continues to become an increasingly-favored metal, machine tool builders require dedicated tooling solutions that can make it a more agreeable working material.
Component Complexity
The cylinder block serves as the main structure of a vehicle's engine. It is responsible for housing several moving parts that, together, generate power to move the vehicle. For many years, the cylinder block was manufactured from cast iron alloys but, for today's passenger cars, aluminum alloys are a common choice in order to save weight.
Manufacturing cylinder blocks involves the largest number of machines in automotive component production, through processes that are often complex and involve tight tolerances. Roughening and finishing critical and complex automotive components, such as cylinder blocks, is an expensive and time-consuming process. It requires several different tools; which means increased setup and more coolant to reduce the heat from heightened friction levels.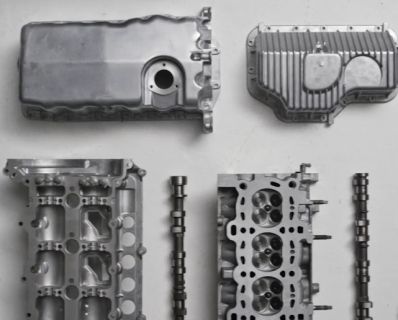 An engine's cylinder head is an equally vital component that is often made from aluminum. It conveys air and fuel to the combustion chamber and sits on top of the cylinder block and is responsible for housing several components, such as valves, spark plugs and fuel injectors. Like the cylinder block, the head also requires intricate and quality machining.
Aluminum may be lighter than its cast iron counterpart, but it is also far softer. Therefore, poor quality finishes, burring and irregular tool wear are all common occurrences. So, how can automotive manufacturers get beyond these challenges to achieve shorter cycle times, improved surface finishes and increased savings?
A One-Shot Solution
As a specialist in metal cutting, Sandvik Coromant has found that innovation lies in simplicity. By implementing a single solution, rather than multiple tools for face milling operations, manufacturers can address many of the challenges of working with aluminum. A one-shot milling cutter can provide both roughing and finishing capabilities in a single tool, and therefore reduce the strain placed on aluminum to help achieve higher quality results.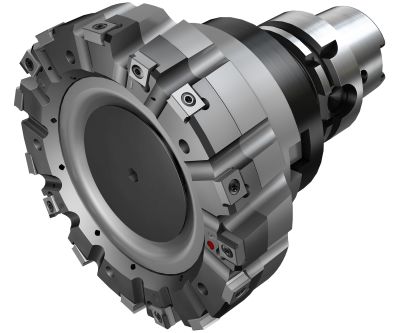 Sandvik Coromant's solutions for machining aluminum include several unique and patented cutter designs for trouble-free, accurate and burr-free milling. They include the M5C90 aluminum cutter, part of the M5 product family, designed for the roughing and finishing face milling of cylinder heads, cylinder blocks and all-aluminum parts within wide cutter engagements, aside from thin wall parts. The tool is capable of completing the entire process, from roughing to finishing, in just one go.
Crucially, the tool can perform rough and finish milling in just one pass and, in many cases, at up-to six millimeters (mm) in axial depth. We have seen it significantly extend tool life by five times, with a 200 per cent cycle time reduction.
A key feature of the M5 family of cutters is its step technology. A series of precise and long-lasting polycrystalline diamond (PCD) tips are arranged in a circular configuration, to progressively remove a bit more material from the workpiece, both axially and radially.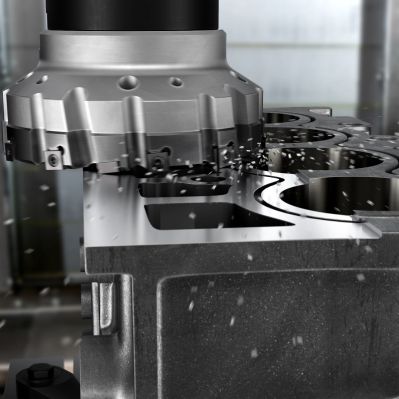 In addition, the last tooth in the tool is a wiper design that provides superior finish and flatness. The fixed position of the wiper and the teeth also eliminates complex and time-consuming pre-setting procedures. While several tools are required to completely finish an automotive aluminum component, this multi-beneficial solution removes much of the strain aluminum faces during machining.
As part of the automotive industry's continuing quest for more environmentally-friendly performance, selecting the right materials will be integral to making vehicles lighter. At the same time, the simpler approach to machining offered by tools like the M5C90 aluminum cutter offers manufacturers a way to overcome the demands and complexity of machining aluminum. Then, perhaps aluminum can take its rightful place as an antidote to the automotive industry's weight dilemma.
Want more information? Click below.