New Kits Convert Older Mechanical Mills into Electronically Controlled Machines
Variable speed components on milling machines typically wear out within 5-10 years and will need to be rebuilt -- which could represent thousands of dollars for a stop-gap repair. Unique to the market, there is now a one-time, alternative solution that completely eliminates a machine's needless sliding variable speed pulley components -- providing an ultra-reliable, long-term fix.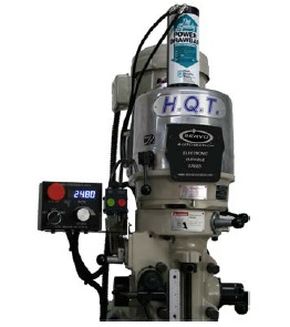 SERVO® Products Company (Eastlake, OH) recently introduced its new Variable Frequency Drive (VFD) and VFD Plus kits which are full-featured packages designed to convert older step pulley mills and variable speed mills from mechanically controlled speed, into an electronically controlled machine.
The complete VFD kits are "plug-and-play" solutions that are easy to install and easy to operate -- quickly upgrading a mill's reliability, versatility, and productivity with smoother variable electronic speed control.
Made in the USA, both VFD kits are also suited for smaller garage/machine shops, mills, lathes, and grinders.
Adaptable to most applications, the VFD kits can run the motor on 220V single-phase incoming power vs. requiring three-phase power -- eliminating the need for a phase converter. Providing all the torque you need in a convenient package, it can go up to 5,000 RPMs in high gear -- 10-15 percent higher than the standard milling machine could do. Unlike early VFD kits, these provide full-torque at the lowest RPM.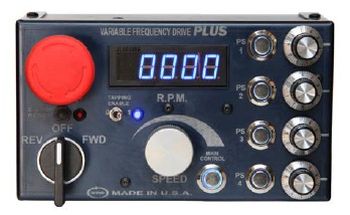 Notably, both VFD kits feature a red E-Stop button that milling machines typically do not have. There is also an E-Stop safety circuit to prevent accidental start-ups.
With an eye on innovation, Servo Engineer, Garry Yaworski, designed the advanced VFD & VFD Plus kits to address the issue of upgrading old-school step pulley type mills and variable speed mills with component failure with a comprehensive solution.
According to Yaworski, "The goal was to improve the mills reliability and productivity with a long-term, all-inclusive fix versus a standard rebuild-type approach. Our VFD kits are comparably priced to a typical variable speed disc replacement and allow end-users to take advantage of the versatility and reliability of electronic speed control."
Servo can also custom tailor CNC packages to fit specific machine requirements, whether it's a new installation or a retrofit replacement for an old unreliable control -- including VFD speed control through the program.
Want more information? Click below.