Toolholder System Leads to Substantial Workpiece Material Savings in Shoulder Grooving Operations
Walter has introduced a new system specially designed for grooving along a shoulder with the G3051-P groove turning holder and the new MX22-2L/R indexable inserts. The new system features an insert installation position inclined by 3° in the insert pocket. Both right- and left- hand versions of the inserts are available. This new feature enables deep grooving operations possible along the shoulder. The precision-ground, four-edged indexable MX inserts are available with new GD8 and VG8 geometries.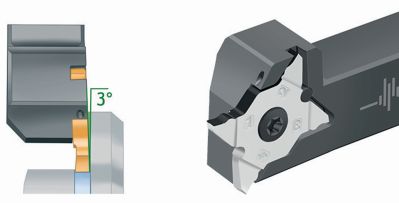 The GD8 geometry has been specifically developed for grooving along the shoulders and grooving of large diameters without interference of the insert with the finished workpiece. The VG8 geometry has been developed for finishing operations behind a collar. Thanks to its reduced space requirements due to unique narrow shape, savings on workpiece material are possible in mass production compared to conventional V-style ISO turning inserts.
The G3051-P grooving system can be used on CNC lathes and multi-spindle machines, as well as automatic lathes. These new holders are designed with Walter precision cooling as a standard feature and are available in shank sizes of 0.625-1.0 in. and 12-25 mm. They allow for cutting depths of up to 0.197 in. (5 mm) and insert widths from 0.059-0.118 in. (1.5-3 mm). This selection makes it particularly suited to high volume production of smaller components, such as camshafts in the automotive industry, but also for precision parts in the medical device industry.
Want more information? Click below.
Copyright © 2022 by Nelson Publishing, Inc. All rights reserved. Reproduction Prohibited.
View our terms of use and
privacy policy
::m::