5‐Axis Pinch/Peel Grinder: Faster, More Accurate Option for Grinding Punches and Pins
Rollomatic is highlighting the new ShapeSmart® model NP50 pinch/peel grinding machine with new and innovative capabilities relating to high‐accuracy punches and pins, both round and non‐round.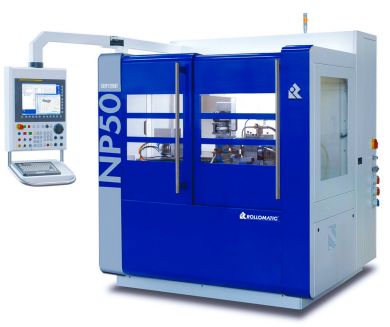 Rollomatic as the original inventor of pinch/peel grinding maintains its global leadership position by spotlighting a new model within its line‐up of grinding machines. The ShapeSmart®model NP50 has been enhanced with new features and upgrades.
The patented option for pinch grinding non‐round parts has been improved and now offers higher accuracy and speed. The non‐round process includes full pinch/peel grinding which ensures extremely high tolerances, form accuracy and the lowest TIR achievable. This is particularly important for exceptionally thin and long parts. Oblong punches, form punches, squares out of center, corner radiuses and any other shape can be produced with this method.
The NP50 is designed and dedicated for cylindrical grinding of carbide, HSS and stainless-steel components with emphasis on highest achievable surface finish and concentricity.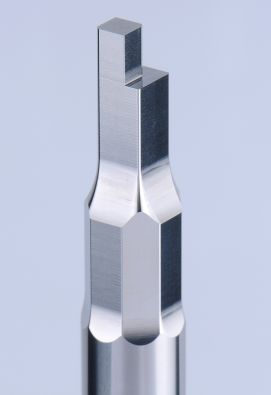 Pinch grinding offers highest concentricity particularly on long and thin parts. The rough and finish grinding are performed in one pass. This innovative way to grind roughing and finishing simultaneously eliminates a separate process and reduces cycle time. The machine utilizes two different grinding wheels running on separate spindles and positioned on independently controlled CNC linear slides.
Various materials can be ground on this machine such as carbide, tool steel, stainless steel and more. The machine includes Marposs in-process gaging and a Renishaw pre‐probing system.
Want more information? Click below.
Copyright © 2022 by Nelson Publishing, Inc. All rights reserved. Reproduction Prohibited.
View our terms of use and
privacy policy
::m::