Virtual Power Plants to Revolutionize the Energy Industry
L7 Drive has launched a new solution to enable an Internet of Energy by connecting batteries and other energy sources to a cloud management platform.
The solution enables an interactive connection to and management of Distributed Energy Sources (DER), such as batteries of electric vehicles and solar charging stations, to form a smart grid. This groundbreaking solution revolutionizes the energy industry and brings substantially increased ROI for many players by enabling them to convert their previously passive energy generation and storage assets into active assets that can automatically trade energy to where and when it is required.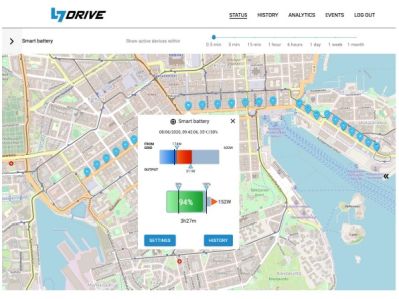 The core of the L7 Drive offering is its patented innovation in battery management, CAN Gateway and an industrial-grade security cloud data processing application. This IoT solution monitors and controls batteries within milliseconds. The L7 Drive solution includes the support of advanced battery analytics, e.g. the construction of VPP systems.
For example, the L7 Drive solution enables the connection of batteries of electric vehicles together with other energy storage assets and charging sources (grid, solar, wind), as well as to automatically manage the resulting grid load and balancing. The system is responsive to sudden changes in the grid balancing requirements, e.g. in the case of a power outage due to a storm and to manage energy flows intelligently based on dynamic price information.
"I am very pleased that our team has developed a technology to enable VPPs. The main focus of L7 Drive is to commercialize technology for a greener world. VPP technology is strongly based on our core technology, which began in the light electric vehicle market. We are already in commercial deployments with several customers and negotiations with new partners are ongoing," says L7 Drive CEO Pentti Bruun.
"L7Drive has truly introduced an exciting and promising solution by combining various technologies. This should be of great business interest for a wide range of customers from the automotive to the energy sectors," comments Senior Advisor Tero Sarkkinen.
Want more information? Click below.
Copyright © 2022 by Nelson Publishing, Inc. All rights reserved. Reproduction Prohibited.
View our terms of use and
privacy policy
::m::