Traceability in the Medical Sector, a Technical Challenge
Governed by many standards ensuring the reliability of its components, the medical sector has implemented numerous traceability processes over the last few years. But SIC MARKING has tackled those challenges with laser marking. And thanks to the markings now applied to the various components, it is possible to obtain information about the manufacturer, as well as the component reference number and expiration date.
The components to be marked are as diverse as the professions that make up the medical sector. There are, for example, many cases of marking on surgical instruments such as scalpels or bistouries, but also on prosthetics or orthoses, made of steel, cobalt, ceramics or biomaterials, dental implants, often made of titanium, or hearing aids or pacemakers.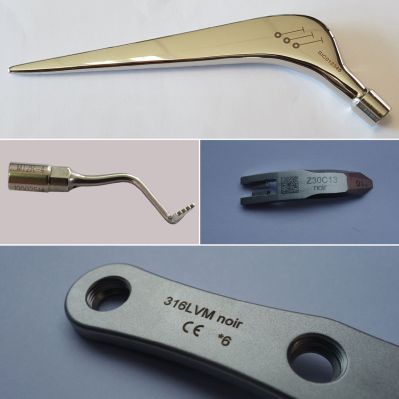 In order to ensure optimal identification throughout their distribution and use, these multiple devices must have a marking composed of different elements. In order to comply with the standards mentioned above, it must contain a machine-readable barcode or Datamatrix as well as several alphanumeric codes that can be identified by humans. Quite often a logo is applied, meeting a need that is more aesthetic than practical.
In addition, there are many constraints linked to the complexity of the marked components and the sector of activity. For example, the materials with which the various devices are made are complex and varied (steel, titanium, stainless steel, ceramics, various alloys, biomaterials, etc.) and require real technical expertise when marking. Precision objects and medical tools are often small and leave very little space for marking. Despite the small marking windows, the identifiers must be contrasting and visible to allow reading via a vision system and a human.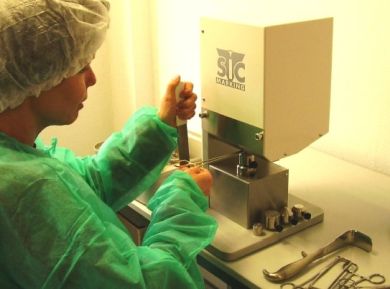 Another challenge is not to weaken the part nor to change its surface state (essential for bone prosthetics which undergo important efforts throughout their life span). It is also important to take into account all the surface treatments and sterilization cycles that medical instruments undergo. This is why it is essential that the marking carried out is resistant and durable over time.
According to Benoit Massel, specialist of laser marking technology at SIC MARKING, "All the difficulty of permanent marking by laser technology on medical parts lies in the ability to obtain a contrasting result without affecting the surface state of the material, which must resist passivation treatments.
The technology must also be able to mark on a variety of materials (polymers, metals, etc.).
Laser Marking, the Most Suitable Solution for the Medical Sector
All these constraints make the traceability of medical tools a real technical challenge. This is why SIC MARKING is committed to providing the most appropriate marking solutions to meet all the challenges faced by the medical sector.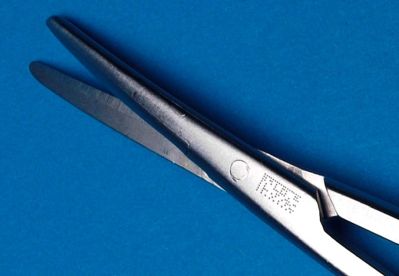 This latest generation technology consists of emitting radiation from a source, amplifying it and directing it towards the part to be marked. The beam creates a chemical reaction on contact with the workpiece.
This traceability solution, thanks to its many advantages, is becoming more and more widespread in the medical industry. It offers great flexibility of use and is able to mark barcodes, Datamatrix codes, alphanumeric characters and logos. All this while adapting to any material. The high-contrast and durable result obtained allows perfect reading over time for optimal traceability. Finally, Laser marking ensures faultless security because it doesn't weaken the part and doesn't degrade its hygiene, a crucial factor in the medical sector.
The SIC MARKING Laser product range can be adapted to your requirements, regardless of the type of marking, the parts, for serial or single marking. It consists of lasers that can be integrated with various options:
3D function for marking on complex shaped parts, different heights, curves or angled faces.
Integrated Vision function for fast and reliable reading of barcodes and Datamatrix codes.
Rotary D-axis for marking cylindrical workpieces around the diameter
The range is completed by 3 marking stations, L-Box, XL-Box and the new XXL-Box.
SIC MARKING provides a feasibility study before each project after collecting the needs of their customers.
Nicolas Louison, Technical Sales Representative at SIC-MARKING talks about it: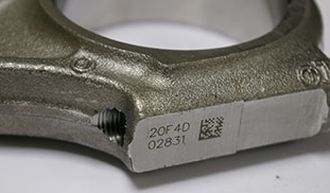 "Today, the medical sector is a sector where traceability has become essential and necessary. SIC MARKING's experience in this sector enables us to provide our customers with the most interesting marking solutions from a technical and economic point of view. The wide range of laser marking solutions from SIC MARKING enables us to offer our customers a marking system that meets the requirements of the various types of applications: permanent, non-destructive marking, resistant to the sterilization process, etc."
SIC MARKING was approached by Italian company MECTRON with the exciting challenge of marking titanium instruments for dental surgery. The marking consisted of an alphanumeric code and a logo and should not, under any circumstances, weaken the parts, which were then subjected to ultrasonic treatment. The challenge was also to create an automatic laser marking system capable of working in collaboration with the latest generation of COBOT (Collaborative Robot).
This project allowed SIC MARKING to prove its expertise thanks to an immediate understanding of the customer's needs and a technical solution proven and validated by electron microscope verification tests in the laboratory.
Want more information? Click below.