Find industrial products such as CNC lathes on DirectIndustry.
Tooling & Production invites you to come visit DirectIndustry. DirectIndustry is an online industrial trade-show which presents metalworking products from the worlds leading manufacturers. Here you can find CNC lathes, machining centers and tool-holders for all your manufacturing needs.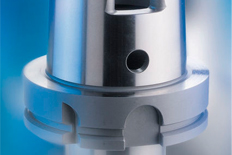 HSK tool-holders
An HSK tool-holder is a specially designd tool-holder which has a short, hollow taper with two points of contact with the surface of the machine spindle. This allows for higher gripping forces between the machine and the tool. HSK tool-holders are used in high-speed machining (HSM) applications in order to machine parts for the aerospace, automobile or medical industry.

Polishing machines
Band saws are power tools used in industry to cut metal, wood, plastic and even in the food processing industry for meat cutting. They come in various sizes, ranging from portable electric band-saws to automated dual column band saws for large workpieces such as steel bar stock or timber. In order to cut metal, machinists use carbon tool steel or bi-metal band-saw blades with varying tooth designs for faster cutting times.

Polishing machines
Polishing machines are used in the metalworking industry for finishing operations on machined parts or long extruded metal tubes, pipes and bars. They come with either automatic or manual operating modes and are adaptable to all production processes. A polishing machine can perform other finishing operations such as deburring and uses different types of abrasive media depending on the metal part.