Minnesota Manufacturer Takes New System for a Spin
Acme Metal Spinning (Minneapolis, MN) recently boosted their automatic CNC spinning capacity by installing an additional spinning machine to produce high volumes of components for lighting fixtures, tanks, ventilation and aerospace parts. This machine forms consistent, smooth, cosmetically appealing components with short set up times.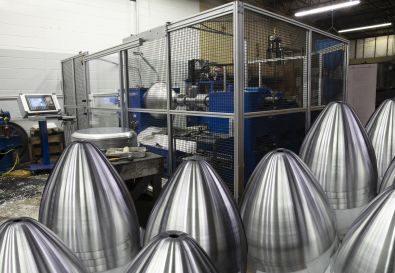 The new system was purchased from Prism Machinery LTD, a specialty machine builder of metal spinning machines and CNC controllers. The Model PNC-600 is capable of producing spun components up to 48" diameter. The system is equipped with robust hydraulics to handle heavy metal gauge aluminum to 1" and .75" mild steel.
Acme provides custom spun components including funnels, hoppers, tank heads, bowls, dome caps, lighting fixtures, HVAC and related metal spun components. These metal-spun components can range up to 96" in diameter and as small as 1/4 inch. Acme has solutions for challenging, cost-effective metal spinning in low, medium and high volumes.
Available materials in a range of thicknesses include stainless steel, aluminum, copper, brass, bronze, and mild steel. Standard tolerances range from a 24-inch finished diameter of ±0.032 inch to a 96-inch finished diameter of ±0.186 inch.
To facilitate fast part design and production, Acme maintains a large inventory of tools. This inventory helps acme offer reduced cost and lead times for prototype and production runs. Acme Metal Spinning also provides secondary value-added operations which include beading, trimming, hole cutting, circle shearing and flanging (in/out). These operations can enhance the part design through a single supplier.
Want more information? Click below.