State-of-the-Art Machines Produce Today's Crankshafts and Drive Shafts; Also Prepared to Produce Tomorrow's Engine
The demand for the combustion engine will last for a few more years until the transformation of automotive companies and markets to alternative drive systems is completed. For quite some time now, manufacturers have been dealing with the consequences of the ambiguous strategies with their technologies -- and their politics. Boehringer believes they have solutions that focus on current productivity, quality and costs, while also keeping an eye on the future.
The internal combustion engine will be indispensable in the coming years and, as a singular drive system, it will undergo further development as part of hybridization in vehicles. The disruption is in progress and the unknown variables include the timeline and the production volume to a possible compensation by the drive alternatives.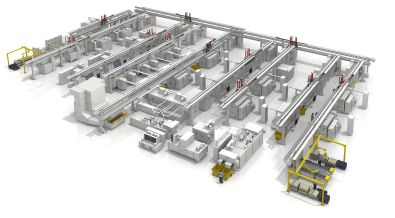 Production plant for four-cylinder crankshafts in "herringbone" layout planned and supplied by BOEHRINGER as a turnkey project.
For production planning, this scenario initially means a maximum degree of flexibility with regard to product design and plant capacity. In the phase of uncertainty, new plant purchases are delayed and demands for reconfiguration of existing equipment increase whereas investments are available for individual process steps.
BOEHRINGER offers a compatible solution and implementation for all upcoming project specifications including: procurement of new production lines, expansion or modification of existing plants, as well as reconfiguration of existing systems.
The new BOEHRINGER 221/226 series can be easily integrated into any layout and connected to automation. All conceivable parameters of the specification for crankshafts and shaft machining can be carried out through small installation footprint, higher performance of the components, higher machining accuracy and lower consumption data with high flexibility for the required technology.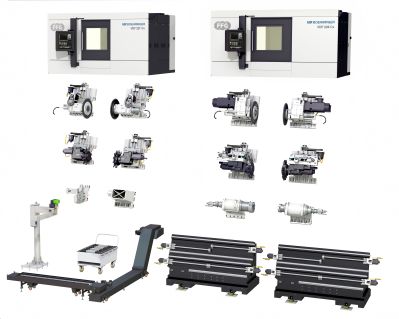 Modular construction kit for lathes and special machines for crankshaft and camshaft machining
The new shaft machines are developed from a modular system of which lathes, end machining machines for shaft components and special crankshaft machines are configured. On a slanted mineral casting (polymer concrete) bed, all guideways and carriage drives are arranged in one level. This concept achieves maximum possible stability and damping, reduces thermal influences to a minimum and the compact size of the components avoids unfavorable cantilevers resulting in low-vibration machining.
The modern vehicle engines are getting smaller yet higher performance with optimal smoothness. For crankshafts of passenger cars, this specification means lower friction due to smaller bearings, mass reduction and higher material stability.
In terms of machining, this means higher cutting performance for small and thus unstable workpieces. The guideways and carriage drives, as well as the modular system, are designed for these parameters under higher drive power of the milling units.
Two alternatives are available for the paraxial mill-turn process: internal milling (tool ring with internal cutting edges) and external milling (tool disc with external cutting edges). The choice of technology in the peripheral areas can be determined analytically: external milling is ideal for small shafts whereas internal milling for large shafts. In between, there is a grey area which is a controversial subject discussed among process specialists. In order to serve the market completely -- with the exception of machining on a stationary workpiece (whirling) -- the product range was expanded by BOEHRINGER VDF 221/226 CIM. Internal milling is traditionally used for roughing.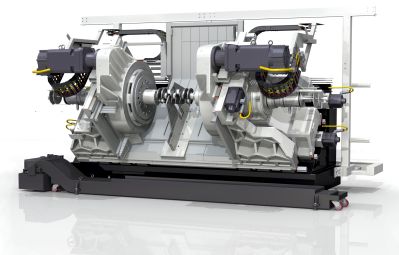 Turning/milling machine for axially parallel machining of main and pin bearings
With the technology innovation of hard fine internal milling of crankshaft bearing positions, an alternative is available for the first time which replaces the costly roughing after hardening and offers significant savings in procurement. With the innovative portal design of the VDF BOEHRINGER VDF 221 CIM for internal milling of crankshaft stroke and center bearings as well as for cheek machining, a very robust machine is available which enables vibration-free heavy-duty machining with maximum performance. External milling on VDF 221 CM has successfully implemented the fine machining of shafts after hardening with hard fine milling. The significant advantage of this technology lies in:
Lower procurement costs for machine equipment (-25 percent compared to grinding)
Can be dry-machined and therefore no maintenance and disposal of grinding abrasive (oil or emulsion) required
Environmentally conscious with lower energy consumption
Cost efficiency on the component
As a development partner for hard fine internal milling, Ingersoll supports technology optimization. The new and successful VDF 221 CIM features technical highlights in heavy and/or precise machining of difficult workpieces:
Milling units mounted on portal slides with central headstocks and thus ensure maximum system rigidity compared to competitors
Temperature-controlled spindle head with generous bearing dimensions as known by VDF BOEHRINGER
Powerful milling drives with recirculating oil lubrication and temperature control
Temperature compensation in the working area
System support NC programming
Excellent access to all assemblies due to wide opening housing on both sides
Cutting force control for an optimum machining process
The new development of the CNC end processing machine BOEHRINGER VDF 221/226 CET is the consistent continuation of the process improvement to increase productivity by the specialist of crankshaft and shaft machining. The core components of this new 6-axis machining center are the two crown turrets, each with 8 tool interfaces, which work as 3-axis units at the both ends of the stationary (firmly clamped) workpiece. Alternatively, spindle and multi-spindle heads in special designs can be flanged to the carrier units for specific applications.

Integration of shaft machining machines into a production system in line setup with a portal load from MAG Factory Automation.
Compared with other known units for end machining scores, the crown turret with the direct power flow of the feed unit on the turret drive and the respective spindle in machining position with correspondingly higher power (40 kW) and powerful feed (10 kN).
The modular VDF BOEHRINGER construction kit makes a decisive contribution to high quality and reduces the storage costs of spare and wear parts when installing a complete production line through the common parts strategy. Prominent advantages of the machine concepts include:
Slanted machine bed
Arrangement of all components on this inclined bed level
Optimal chip removal in the machine - especially with dry and MQL processing
Wide opening housing allows free and ground level access to all modules
Compact, space-saving machine layout with central electrical and fluid cabinets
High energy efficiency and broad experience in environmentally conscious manufacturing technologies
Workpiece flexibility due to large working area in X and Y direction
All the machines of the VDF series are highly ergonomically designed; they can be loaded manually and automatically. A wide opening of the working area supports the positioning of the components and provides convenient access to the workpiece holder during loading and unloading, even with a hoist.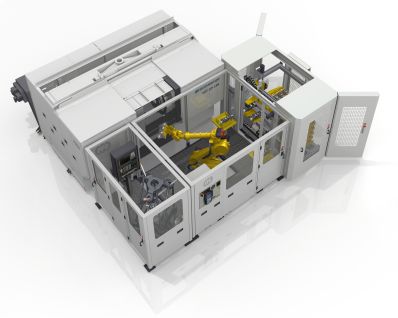 Expansion of the shaft machining machines by a "MAG Cell" with automated workpiece measurement and material supply by pallets.
The swiveling control panel of the machine is adjustable to the operator's need. In most cases, automatic loading takes place from above with a loading gantry or from the front with a robot. The standardized "MAG Cell" can be connected to the machine as production cell.
Inside there is a floor mounted robot, which removes components from a storage tower or from a belt feeder and delivers the finished parts in the same way. The "MAG Cell" can be expanded with further functions such as cleaning and/or measuring. MAG Factory Automation plans to integrate machines in the production environment from stand-alone machine with loading to the complex turnkey system for the production of ready-to-install components.
Processes and layouts are simulated and optimized using state-of-the-art planning tools. Thus, regardless of new machines, used machines or a mix of both in one system, the required plant output and quality can be planned in the quotation phase. The combination of parallel (redundant) stations and the bottle neck areas (sequential stations) must be managed and a maximum productivity must be achieved in logistics planning. In terms of turn-key projects, for example, cutting machines with measuring, washing and assembling can be connected via an automated transport system.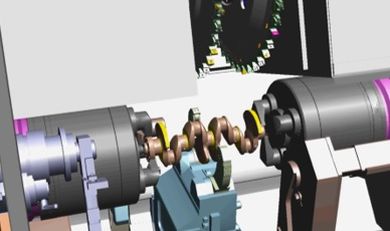 Simulation and virtual commissioning of shaft machining with the software tools "NX CAM" and "Visual Components."
Furthermore, the respective processes can be validated with Digital Twins, station availability can be determined and simulating the material flow variants a Digital Production Twin can be created. During project implementation, these models are further refined and through virtual commissioning to guarantee a higher level of quality as well as a noticeable reduction in delivery times.
Until combustion engines are completely replaced, highly productive plants will continue to manufacture the components. However, with the transformation to alternative drive concepts, using the BOEHRINGER machine for virtual planning of future application is already possible today.
Want more information? Click below.