New Industrial Vacuum for Abrasive Materials Among Many Highlights of Milestone Year for Vac-U-Max
Founded in 1954 by Frank Pendleton, VAC-U-MAX is celebrating 65 years providing growth, industry leadership and innovations.
This year also marks the 50th work year anniversary for Steve Pendleton who served various positions within the organization from 1969 to present, including serving as President of VAC-U-MAX. During his 50-year tenure, Steve Pendleton led the company's vision, transformation, and growth following family tradition and entrepreneurial spirit. For his 50th work year anniversary, VAC-U-MAX provided a catered luncheon for the entire organization and surprised him with a cake.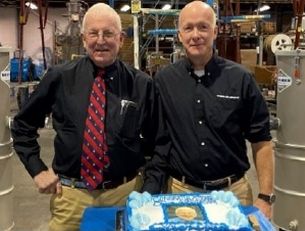 Steve and Doan Pendleton
"Fifty years ago, I filled an open sales position offered to me by my father Frank, selling compressed-air powered vacuum cleaners from the trunk of my car," said Steve Pendleton. "The past 50 years have been the best memories of my life, with a fantastic team of dedicated and loyal employees along the way. Thank you for celebrating this work anniversary with me, but with this announcement, I am also letting you know that I resign as President and introduce to you our new President, Doan Pendleton."
At the meeting VAC-U-MAX announced the appointment of Doan Pendleton as President, assuming the new role effective November 1, 2019. Doan Pendleton will continue to create, communicate and implement VAC-U-MAX's vision, mission and overall direction within the companies' philosophies, expectations, and guidelines. Doan brings forward decades of experience and proven track records of customer-centric visions. Steve Pendleton will continue as Chairman of the Board.
"I am both humbled and honored for this opportunity to serve as President," said Doan Pendleton. "My father was the first to see the true potential of VAC-U-MAX and is responsible for growing VAC-U-MAX to where it is today. I cannot thank him enough for his vision, leadership, perseverance and contributions. He is the true pioneer and visionary and will continue as Chairman of the Board," said Doan Pendleton.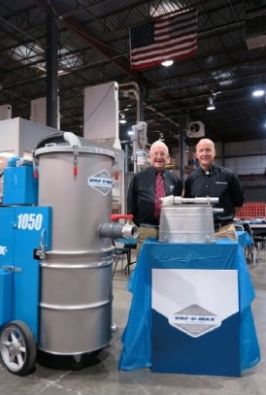 VAC-U-MAX marked another milestone in 2019 with the introduction of the new Model 1050, a continuous-duty industrial vacuum cleaner designed for high volume recovery of high-density and abrasive materials including steel shot, grit, cement, foundry sand, and other similar materials.
The Model 1050 vacuums up to 10,000 lbs (4,500 kg) pr/hr from distances up to 30 feet (9m) away.
The heart of the Model 1050 is a positive-displacement rotary-lobe vacuum pump which is unlike any centrifugal vacuum producer. The vacuum pump provides 50 percent more vacuum power with airflow that never diminishes for quick recovery of material from large piles and over long distances.
Want more information? Click below.