Three New Cobot-Powered Welding Tools Help Address Labor Shortage in Welding Industry
The welding automation industry is increasingly implementing collaborative robot arms. This year's FABTECH Expo features no less than three Universal Robot cobot powered path-processing solutions: BotX Welder by Hirebotics, Red-D-Arc and Airgas; Vectis Automation's Cobot Welding Tool; and SnapCut by ARC Specialties.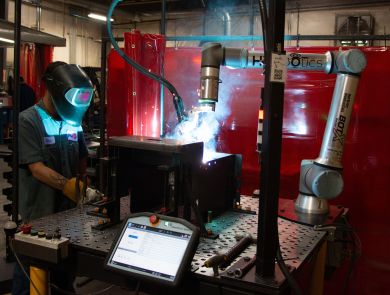 The average age of today's welder in the U.S. is 55 years old, and fewer than 20 percent are under the age of 35, according to the American Welding Society. These demographics lead to a projected deficit of 400,000 welders by 2024 in an industry where weld shops are caught between a rock and a hard place; they already can't find enough skilled welders, and they can't automate the increasing amount of high/mix low volume production runs with traditional welding robots.
"Addressing the severe labor shortage in weld shops with cobots is now a solution that we see rapidly emerge as industry leaders and innovators start offering automated welding tools utilizing the Universal Robots platform," says regional sales director of Universal Robots' Americas division, Stu Shepherd.
BotX -- Hire a Robot Welder by the Hour
The new BotX Welder, developed by Hirebotics, Red-D-Arc, and Airgas, utilizes a UR10e cobot to address two major hurdles of robotic arc welding: ease of programming and the ease in which a customer can obtain the system without assuming the cost of ownership.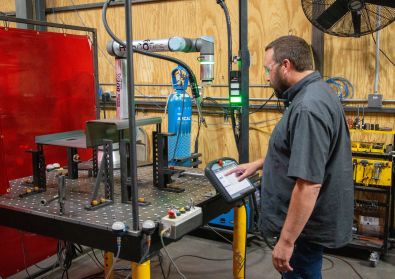 There are no installation costs with BotX, and with cloud monitoring, manufacturers pay only for the hours the system actually welds, thereby enabling the manufacturer to hire and fire BotX as business needs dictate. "We chose Universal Robots to power BotX for several reasons," says Rob Goldiez, co-founder and CEO of Hirebotics. "With Universal Robots' open architecture, we were able to control, not only wire feed speed and voltage, but torch angle as well, which ensures a quality weld every time," he says.
Vectis Automation's Cobot Welding Tool -- An Intuitive Solution
Debuting in Universal Robots' FABTECH booth this year is Vectis Automation's new Cobot Welding Tool, a portable, safe, versatile, and extremely easy-to-use solution that is even available as a low-risk, no-capital rent-to-own option.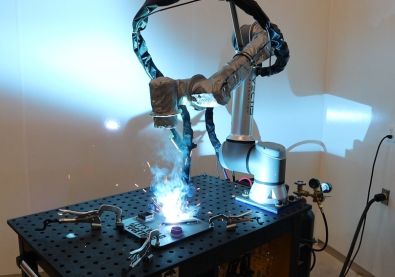 Vectis' Let's Weld Together™ intuitive programming interface is accessible directly through the UR cobot's own teach pendant. Programs can be created, saved, and later recalled in order to handle the numerous part numbers typical for high mix/low volume shops.
"We saw Universal Robots prevail as the undisputed leader in the cobot market, lowering automation barriers through ease of use and fast deployment," says Josh Pawley, director of business development and co-founder of Vectis Automation. "We wanted to build our cobot welder on this platform, providing the same user experience to welders that manufacturers in many other industry verticals now enjoy," he says, adding that the Vectis Cobot Welder is commonly 25-40 percent less expensive than the all-in cost of a small traditional robot welder.
SnapCut -- A Cobot Cutting Through Steel
ARC Specialties has further developed the UR product portfolio with the release of SnapCut that allows traditional metal fabricators to easily cut shapes in 3-dimensional steel components with no prior robotic or computer programming knowledge.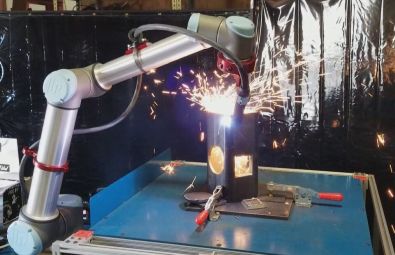 "With SnapCut, we have developed a tool that allows metal fabricators to deploy UR cobots to cut non-standard positions on-location with near plasma table quality," says John Martin, Vice President with ARC Specialties. "We're providing an easy automation alternative to a process that today is primarily done manually."
Users can easily switch between plasma cutting and welding, turning SnapCut into SnapWeld. ARC Specialties just updated the SnapWeld interface, pre-loading it with welding schedules so the user -- with no prior robotic experience required -- simply inputs material information, then teaches the welding path by pointing the robot at the weld.
Want more information? Click below.