Intelligent Machine-Loading Robot Designed to Handle Punishing Conditions from Dust, Swarf, and Fluids
Stäubli's new HE version of the TS2 SCARA robot is making its world premier at EMO.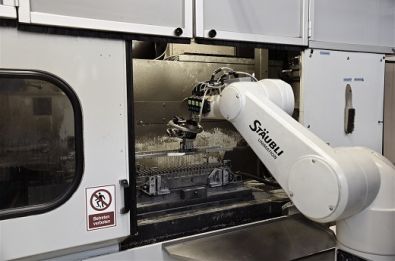 The unique construction of the TX2 six-axis series makes its members ideally suited to the special requirements that apply in metalworking, where direct contact with grinding dust, swarf and cooling lubricants is unavoidable. With the six-axis TX2's, applications can be implemented reliably inside a machining center where any other standard robot would soon succumb to the punishing conditions.
The advantages of the TX2 six-axis machines -- their enclosed design, the internal wiring, the connections under the robot pedestal and their high protection category -- are now also applicable to the brand new four-axis robots of the TS2 series. As a result, Stäubli is at last able to offer SCARA's for even the most demanding tasks in machine automation.
This minor sensation was made possible by the total redesign of the four-axis series. They are now equipped with Stäubli's proprietary JCS drive technology, developed and built in-house, which was previously reserved for the six-axis models. This technology is the key to the enormous performance gain of the TS2 SCARA's. Hollow shaft technology has facilitated an enclosed structure, which has made external cabling a thing of the past.
Four-Axis Robots Now Available as HE Versions
This pioneering design paves the way for an interesting option that has so far not been featured on the SCARA list. For applications in which the robots are permanently exposed to cooling lubricants, Stäubli recommends the HE versions with their additional level of protection (HE stands for "Humid Environment").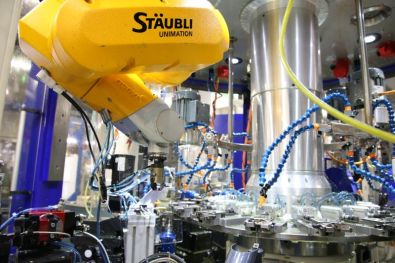 To ensure ongoing trouble-free operation of the new four-axis robots, even where they are integrated into machining centers, they incorporate stainless steel parts, toughened seals and specially coated housing panels. With the arrival of the HE version of its four-axis TS2 machine, Stäubli has filled a gap in the market and is now able to supply all robot kinematics in this special protected design.
In order to provide an optimal solution for all machine sizes, the new robot family comprises four models, specifically the TS2-40, TS2-60, TS2-80 and TS2-100. The previous series covered ranges of 400 to 800 millimeters, but this has been extended to an impressive working radius of 1,000 millimeters with the addition of the TS2-100. Overall, the new SCARA's are considerably more compact than their predecessors and are therefore optimally equipped for the automation of machine tools and machining centers.
Connecting Machinery by Mobile Robot Systems
HelMo can maneuver and navigate autonomously, monitoring its environment all the while by means of three integrated laser scanners. Equipped with a six-axis robot of the TX2 series, HelMo can carry out all types of work, including those that call for direct human-robot collaboration.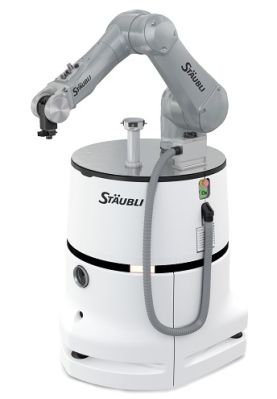 Machine loading and linking is a prime example of how the mobile robot can replace obsolete production scenarios. Whereas forklifts, manual tool and workpiece handling, conveyor systems and fixed automation solutions were still used in the recent past, HelMo is now able to manage the entire task spectrum. It can network production, fetch tools from a magazine, bring them to the machine, manage the loading and unloading of machine tools and connect the process as appropriate.
In the next step, multiple mobile robots can serve complete production lines by communicating with each other as well as with a higher-level ERP system. HelMo will enable users to achieve smart production in future Industry 4.0 environments, with a significant gain in autonomy, flexibility and productivity. A complex safety package is included to meet the rigorous specifications that apply.
Open Interfaces to All Control Systems
Stäubli's ready-to-plug solutions uniVAL drive and uniVAL plc meet the demand from many users for a uniform control platform for machine tools and robots. The result is that all Stäubli kinematics can be operated via the multi-axis controls of the machine tool or via programmable logic controllers from renowned suppliers such as Siemens and Beckhoff.
Integration of the robots into the relevant control system is easier than ever before. If robot control is to be performed via a multi-axis unit, uniVAL drive is the appropriate choice. uniVAL drive allows the machine tool controller to take over the robot controller and thus operate the individual robot axes via bus systems such as Sercos3, Ethercat, Powerlink and Profinet.
Want more information? Click below.