Multifunction MC Breaks Through with Special Universal Heads for Turning
JUARISTI has developed the new TH3-MT Multifunction Center, optimized for highly reliable boring, milling and Turning operations, and the new ACD7 and ACD8 universal heads, designed for maximum precision 5-axis machining.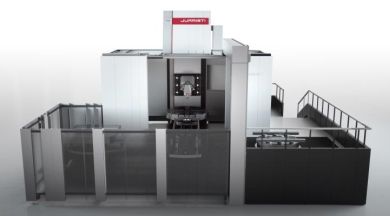 The new machining center in the TH series includes a milling and turning table and a special milling head with an optimized design for milling and turning operations. The center includes a comprehensive automation package and has been completely redesigned to improve ergonomics, extend service life and optimize swarf and cutting fluid management.
The TH3-MT continues to offer the key benefits of TH series solutions: high dynamics (up to 40m/min rapid feed with 3m/s²accelerations) and interoperability with the next generation high feed and high swarf removal tools.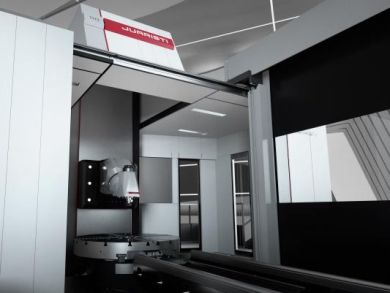 Thanks to its symmetrical design with a column-centered head and 4 guides (two front and two rear), it offers unbeatable precision, thermal stability and high cutting power. The major breakthrough has been the introduction of a new special head for turning and a turning table.
JUARISTI's new head, dubbed the ACD8, is a universal model that allows 5-axis machining and reaches rotation speeds of up to 8,000rpm, with high power (60kW) and spindle torque (1,600Nm).The milling and turning table included in the machine will have a Ø1600 chuck diameter (options up to Ø2000) with a 400rpm maximum speed and a 5 ton maximum part capacity in turning and 10 tons in milling. Rotation speeds reach 400rpm.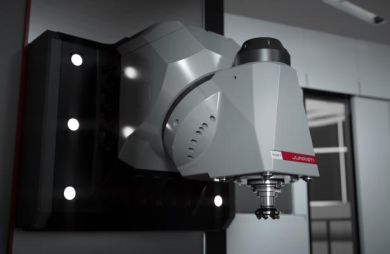 The new machine features multiple automated systems that can be adapted to customer requirements, including a quick-change matrix tool changer with the capacity for up to 200 tools and an FMS multi-pallet system.
Finally, the TH3-MT has gone through an extensive redesign process, achieving a more stylish and ergonomic ensemble. The new design achieves a more compact layout for better floor space usage. Another design enhancement is the stainless-steel housing of the full enclosed guarding, which protects and extends the life of the machine. Its excellent ergonomics mean that the operator has perfect control of operations, as well as the meticulous arrangement of the main components to facilitate monitoring and maintenance, with maximum safety.
Want more information? Click below.