New Machining Center Built to Handle Large Structural Components; Cuts Chip-to-Chip Time in Half
Licon is introducing the LiFLEX I 12126 at EMO this month.
The new single-spindle machining center shows a unique combination of dynamics and work envelope, used especially for significantly higher processing dimensions like structural components. The chip-to-chip time is reduced by half. Additional benefits as a cost-cutting tool are provided by Licon Added Value Analysis, or LAVA, to enable predictive maintenance digitally and in real time.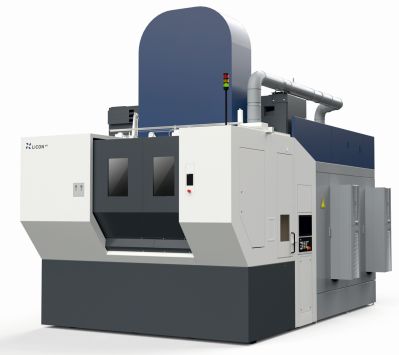 As a further development, the single-spindle LiFLEX I 12126 can process structural components in even larger dimensions than before. The machine works 4- or 5-axis, is particularly fast, dynamically stable and robust.
It is designed primarily for the machining of large structural components made of light metal such as aluminum. The tool change time is only 1 second. With rapid traverse speeds in the linear axes up to 150 m / min, high acceleration as well as increase rate of acceleration, the machine is currently one of the most dynamic of this work envelope on the market.
"One application is the processing of engine cradles for passenger cars. Here, it is important that the large component can be positioned freely in the working area and the machining can be carried out at all required areas, if possible, without the additional use of angular heads. In order to guarantee the overall performance of the machine, we rely exclusively on the components from our own LiFLEX modular system," says Winfried Benz, Managing Director of Licon.
More Production Flexibility Thanks to Independent Axes
As a further innovation, Licon offers the i³ technology, which provides independence in three axes for more production flexibility. While the two spindles are often coupled with twin-spindle machining centers, there are already independent Z-axes with the basic configuration. In addition, the i³ technology provides complete decoupling and independence in all three linear axes.
More and more attention is also being paid to Licon Added Value Analysis, in short LAVA. Essentially, this involves the digital processing of a wide range of information on the topics of condition analysis, predictive maintenance and optimization of machining processes. Licon can detect the condition of its machines worldwide by means of suitable sensors. Typical physical parameters such as force, temperature and vibration signals can be individually read out and evaluated.
Want more information? Click below.