Innovative New System Virtually Eliminates Tool Head Vibration
NUM has launched an innovative accelerometer-based active vibration control system for CNC machine tools.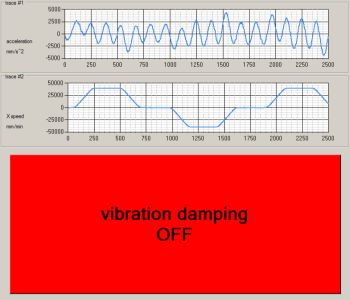 Vibration damping is OFF. Trace 2 shows the X axis speed, while Trace 1 shows that the measured point on the machine is vibrating at its natural frequency.
Primarily designed to improve machining by virtually eliminating tool head vibration, the system further helps increase productivity by maximizing material removal rate (MRR) and can also provide valuable real-time feedback for predictive maintenance purposes.
The system is available as a retrofittable option for any machine tool that uses NUM's MDLUX high performance digital servo drives, which form part of the company's Flexium+ CNC platform.
Typically, acceleration data can only be retrieved once every 20 milliseconds, which is inadequate for vibration damping purposes on machine tools. The accelerometer in NUM's new system is sampled every 100 microseconds, which means that it can be used for closed loop control at bandwidths approaching several hundreds of Hertz.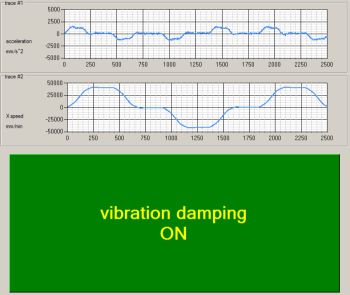 Vibration damping is ON. Trace 2 shows the X axis speed, while Trace 1 shows that the measured point on the machine is moving and that the acceleration is only the programmed rate (the natural frequency has been completely compensated).
One of the most interesting applications of NUM's new active vibration control system concerns Tool Centre Point (TCP) vibration due to the various vibration modes of a machine tool's mechanical structure. Until now, even if the machine is equipped with a high-resolution encoder (integrated in the servo motor) it has been impossible to damp the TCP vibration, simply because it is not measured.
Although complex system modeling and state-space control could possibly provide some effective results, the complexity is very high and the compensation robustness is quite weak. For example, in the case of a small parameter change, such as inertia, the effect of the compensation would be lost entirely.
However, by using NUM's new active vibration control system to measure and dynamically alter the TCP acceleration in each of the main X, Y and Z axis directions, it is now possible to damp the vibration very accurately. Using this approach, tool head vibration can effectively be eliminated, significantly reducing tool wear and maximizing the MRR of the machining process.
Want more information? Click below.