New Laser System Accurately Cuts Sheet Metal to Within +/- 10 Microns
In collaboration with NUM Taiwan, the Taiwanese laser machine manufacturer Legend Laser, Inc., has developed a unique multi-axis system for the precision cutting of thin sheet metal parts. Based on NUM's latest-generation Flexium+ CNC platform, the system combines high dynamic performance linear motors with a pulsed fiber laser and is expressly designed for 24/7 operation in a standard production environment.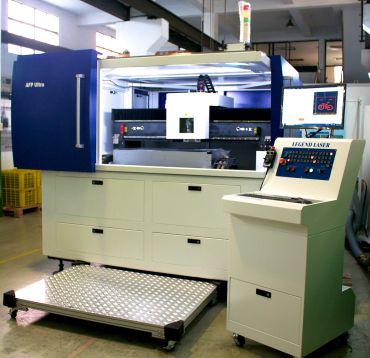 Legend Laser's new SRC-610 precision sheet metal cutter is a 3-axis system with a working area of 1000 x 600mm and an above-worktable clearance height of 150mm. It is mounted on a high inertia platform, comprising a large mass solid granite base with a rigid metal frame.
To ensure smooth, burr-free cutting and to prevent any heat-induced deformation of thin metal workpieces, the power output of the pulsed fiber laser is fully synchronized to the cutting operation. The laser has a peak output power of 1.5kW and can cut sheet metal with a thickness of between 20 µm (0.02mm) and 1000 µm (1mm), at speeds ranging from a few millimeters per second to a hundred millimeters per second.
Thanks to the system's high dynamic performance and continuously variable laser power level, it is capable of exceptional cutting precision -- to within just plus/minus 10 microns (10µm or 0.01mm).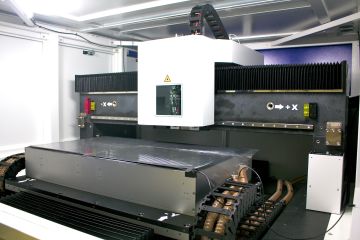 The X and Y axes of the system -- which control the lateral movement of the sheet metal workpiece and the laser cutting head respectively -- are capable of very fast acceleration/deceleration and ultra-precise positioning. Both axes employ linear induction motors, driven by NUM's NUMDrive X servo amplifiers.
The Z axis, which controls the vertical height of the laser cutting head and thus the gap between it and the workpiece, uses a NUM BHX series AC brushless servomotor and a NUMDrive X servo amplifier. The gap between laser cutting head and workpiece is controlled very accurately during the entire cutting process, through use of a unique 'Dynamic Operator' (DO) function in NUM's Flexium software. This employs special fast calculation and communication facilities which enable event-driven machine cycles to be integrated into the real-time CNC kernel.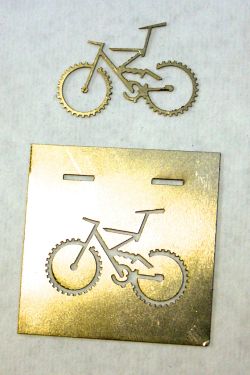 According to Sherman Kuo, President of Legend Laser, "NUM is now our CNC provider of choice. Its open architecture CNC platforms simplify system integration, while its willingness to actively collaborate in joint machine development projects such as this helps to shorten our time to market significantly."
NUM is supplying Legend Laser with a complete CNC solution for its SRC-610 precision sheet metal laser cutting system. In addition to the Flexium+ 8 CNC system and NUMDrive X servo amplifiers, this includes a custom HMI (human-machine interface) that is dedicated to laser cutting, the PLC software, specially developed part program macros and the system commissioning.
Want more information? Click below.