CAD/CAM and MES Technology Ideal for Manufacturing Aircraft Parts
By its very nature, the aerospace industry places the highest demands on aircraft parts as well as on their materials and part geometry. The safety requirements leave no room for error. CAD/CAM and MES systems from Tebis support parts manufacturers in meeting these stringent demands for the finished parts while remaining efficient.
Maintaining Digital Twins of Manufacturing Resources
Tebis enables complete, true-to-life digital simulation of the manufacturing environment, from the machine to the tools, clamping devices, and units.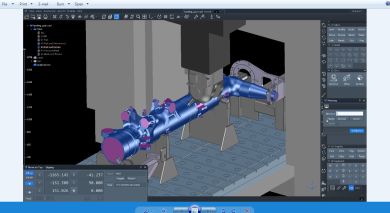 Even before a toolpath is calculated, the NC programmers clamp the virtual part on the virtual machine and select the correct clamping devices, machining tools and machining directions. This makes it possible to use virtual system to check in advance what will happen later in the real world. The virtual environment, which accompanies the entire programming process, provides the basis for integrated NC simulation and NC verification in Tebis. The NC programs that are created have minimized idle toolpaths and are collision-free right from the start.
Storing Manufacturing Expertise in Templates
Companies use Tebis to centrally store their existing manufacturing knowledge in templates. All employees can also access proven strategies, with no detailed programming experience required. This could be, for example, the optimal use of individual tools or tool sequences for specific machining operations such as threads, toleranced fits or complete machining processes for families of parts -- such as molds and fixtures for composite processing.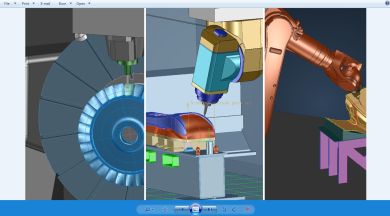 The templates can be automated in a way that they can independently find the relevant geometry elements, regardless of which system the data were designed in. This reduces programming times and improves quality, because all employees benefit from the knowledge of their most skilled colleagues.
Handling Manufacturing Tasks Within a Single Software Solution
Tebis CAD/CAM can be used to program all machining operations, from 2.5 D to 5-axis simultaneous machining. Machining operations such as turning, laser cutting, laser hardening or wire EDM are also controlled via a central Job Manager. Similarly, conventional machines and machining robots can be programmed, and aluminum, Inconel, titanium and other demanding materials can be clamped. Users employ HPC, HFC and circle-segment cutters in 3-axis and 5-axis machining for especially efficient machining. Proven interfaces to platforms -- including Catia, NX and SolidWorks -- ensure compatibility with all customers.
Want more information? Click below.