Watch How System Integrator Uses Robotic Metal 3D Printing to Create Parts in Hours, Not Months
In recent years, 3D printing with metal has gained even more popularity, providing manufacturers with the ability to customize parts for their clients. In this video, watch how Midwest Engineered Systems has teamed up with KUKA Robotics to use a laser and molten metal process to 3D print unlimited size parts at 20 pounds an hour.
Midwest Engineered Systems, a leading integrator in fully-automated systems, needed to make never-before-seen products a reality, and the introduction of 3D metal printing made this possible.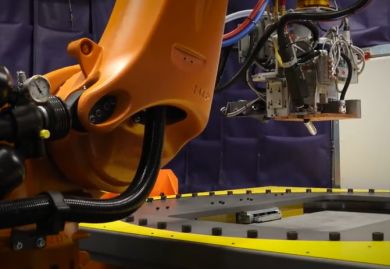 With 3D metal printing robots, development cycles become shorter, and processes that were challenging before, such as building robotic arms and grippers, are made simple to create efficient cycle times. Better yet, less machining is needed, and the quality of the material remains consistent throughout the product structure.
With this new approach to design in mind, Midwest Engineered Systems partnered with KUKA Robotics, a leading global supplier of intelligent automation solutions, for its robotic 3D printing solutions.
To reach the next level of success, Midwest Engineered Systems introduced customized solutions to their engineering processes using KUKA's robotic, laser, and molten metal 3D printing. They chose KUKA's system for its open architecture as well as its ability to provide unique software that integrates well with robotics systems.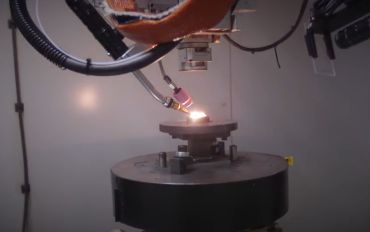 Metal 3D printing has enabled KUKA and Midwest Engineered Systems to become leaders in complex strategies, solutions and systems integration and allowed manufacturers around the world to create parts in hours rather than months, all while saving money on their production processes.
Copyright © 2019 by Nelson Publishing, Inc. All rights reserved. Reproduction Prohibited.
View our terms of use and
privacy policy
::m::