Shhhh -- New "Silent Scribe" Designed for Quiet Deep Part Marking
Columbia Marking Tools, Inc. has pioneered the application development of many of the marking processes used in manufacturing today, including enhanced versions of dot-peen marking, low-stress dot-peen marking, impact marking, roll marking, laser marking and now scribe marking.
Recently, Columbia developed a new C-Series of markers that perform both dot-peen and what is called the "Silent Scribe" CNC marking system.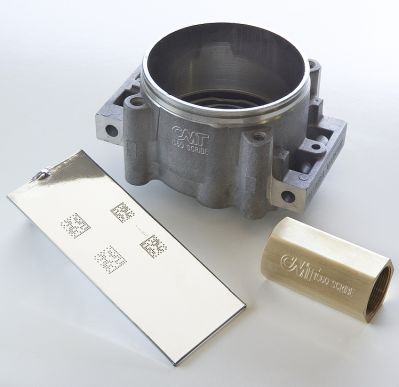 Typical parts scribe marked to depths of up to 0.0080-inch.
Utilizing high-power stylus actuators that operate on relatively low air pressure, the C Series can produce extra deep marks. The ballscrew and linear bearing axis design permits the user to have either a quiet-running servo motor drive that provides high-speed marking capability up to 10 characters per second with 0.005mm positioning accuracy, or a high-performance stepper motor drive that gives 0.02mm repeatability at 5 characters per second.
The machine can operate as a stand-alone or, because of its compact size, can be easily integrated into an automated production system that use robots, because the marking head is designed to "get-out-of-the-way." With the C-Series component architecture, the individual axis can be customized from 40 mm to 500 mm travel or more, allowing for extreme flexibility.
Tom Phipps, Columbia Marking Tools, CEO, says, "Columbia has designed and built hundreds of stand-alone and automated special marking machines utilizing every type of marking process. We study the customer's process and apply the best marking system solution for the application. That includes, type of mark required, production requirements, noise and safety of the process, and ultimately the quality of the mark. Types of marks include, date stamp & shift codes, QC marks, part numbers, traceability marks, UID Compliant and 2D Matrix Square Dot™ codes, company logos, lot numbers, and even trademarks."
Phipps points out, "Today we are seeing an increased need for deeper marks in new types of alloys, steels, including high-strength low-alloy steel (HSLA) and different formulations of casting materials, all of which require versatility in the range of marking pressure capability."
Want more information? Click below.