Wake Up! Employee Fatigue Could Be Costing Your Plant Big Money
Fatigue is a hidden danger for employees and workplaces, and it has the potential to cost manufacturers millions of dollars a year. Employees who miss out on crucial sleep are less focused at work and at higher risk for injury. But proactive employers can reduce the impact of fatigue on their workplace and help keep their workers safe.
People often make light of how little sleep they get on a regular basis; an over-worked, over-tired condition has become the norm for many. But a good night's sleep is not just a novelty, it's a necessity. The effects of fatigue are far-reaching and can have an adverse impact on all areas of our lives.
Work often requires us to override those natural sleep patterns. More than 43 percent of workers are sleep-deprived, and those most at risk work the night shift, long shifts or irregular shifts. Following are a few facts for employers:
Safety performance decreases as employees become tired
62 percent of night shift workers complain about sleep loss
Fatigued worker productivity costs employers $1,200 to $3,100 per employee annually
Employees on rotating shifts are particularly vulnerable because they cannot adapt their "body clocks" to an alternative sleep pattern
Sleep is a vital factor in overall health. Adults need an average of seven to nine hours of sleep each night, but 30 percent report averaging less than six hours, according to the National Health Interview Survey.
Chronic sleep-deprivation causes depression, obesity, cardiovascular disease and other illnesses
Fatigue is estimated to cost employers $136 billion a year in health-related lost productivity
More than 70 million Americans suffer from a sleep disorder
Americans receive little education on the importance of sleep, sleep disorders and the consequences of fatigue, but industry leaders recently have been drawing attention to this issue. Employers, too, are in an ideal position to educate employees on how to avoid fatigue-related safety incidents. The National Safety Council (NSC) supports science-based fatigue risk management systems in the workplace.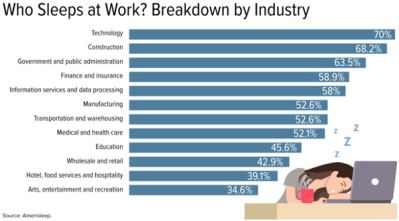 You Are Not Alone
"Fatigue" and "sleepiness" often are used synonymously, but they are not the same. Sleepiness is the physiological desire to sleep. Fatigue describes a physical, mental or social impairment that includes tiredness, sleepiness, reduced energy and increased effort needed to perform tasks at a desired level. Nearly 4 out of 10 employees in the U.S. suffer from sleep loss. People most at risk for fatigue and fatigue-related incidents include:
Shift workers, especially those working night shift, rotating shifts, long hours or with early morning start times
Workers who perform a task for extended periods or repeatedly perform a tedious task
Individuals who get less than seven hours of sleep a night
Sounds like employees at a manufacturing plant.
What is Fatigue Costing Your Company?
A recent national survey found that more than one-third of Americans sleep less than seven hours each night. More than one in 10 reported sleeping less than six hours. Fatigue greatly impacts the workplace in terms of productivity:
Workers who sleep fewer than six hours per night cost employers about six workdays a year in productivity

Employees who sleep six to seven hours each night cost employers 3.7 workdays a year in productivity
Total Cost at a Typical Workplace
A typical employer with 1,000 employees can expect to experience more than $1 million lost each year to fatigue: $272,000 due to absenteeism and $776,000 due to presenteeism. An additional $536,000 in healthcare costs could be avoided with optimization of sleep health.
What You Can do to Prevent Fatigue
Feelings of fatigue are somewhat subjective, and signs of fatigue are not always easy to identify. Some people cannot even tell when they are fatigued.
The reality is, more than 1 in 3 people are not getting enough sleep. To avoid fatigue, make sure to:
Get enough sleep and provide for adequate rest between physically or cognitively demanding activities.
Talk to your doctor about getting screened for sleeping disorders, such as obstructive sleep apnea.
Align your natural body clock with your work schedule; some people who regularly fly through different time zones, for example, use melatonin to reset their circadian rhythms.
If you work the night shift, try to maintain a consistent sleep schedule even on your days off, and be sure to use blackout curtains to keep your bedroom dark.
Instead of tossing and turning, give this sleep habits assessment tool a try and find out what's keeping you awake; your answer is likely to differ greatly from your colleague.
Want more information? Click below.